The B2B Inbound marketing definitive guide
Here is our definitive guide of B2B Inbound marketing containing all the information gathered from years of management.
Companies increasingly carry inbound marketing programs for several reasons. First, it is a cost-effective strategy when compared to outbound marketing. It also allows for increasing authority and brand awareness, and, as a result, users will be aware of your solutions when searching for information related to their needs. Lastly, it increases credibility and trust, as it is based on delivering (good quality) content.
We have decided to produce an advanced guide to provide relevant information to be able to launch optimal B2B Inbound marketing campaigns. If you'd instead go for introductory guides, we recommend HubSpot's guide and Digital 22's guide.
Why this guide?
Attract, convert, close and delight B2B qualified clients.
Find useful information on how to build a qualified B2B Inbound marketing strategy
According to HubSpot, prospects spend 50% of their time online engaging with custom content. Also, the CMA confirms that 68% of online potential clients spend significant time reading content published by a brand they trust. Consequently, this data confirms that it is essential to build an effective inbound marketing strategy considering all buyer's journey.
Here's what to expect from this guide:
· High-quality information about B2B Inbound marketing.
· Essential tips and tricks to build an optimal B2B Inbound marketing strategy.
· Free available templates to create effective strategies.
1. The basics of Inbound marketing and how they change for B2B

To begin the guide, let's check first some knowledge about inbound marketing strategy. Inbound marketing is an increasingly relevant strategy that attracts users to generate new leads by creating valuable content with specific tools, then engages them and finally delights them. While outbound marketing gives content that your audience doesn't always want, with inbound marketing, you provide content that your target audience needs to cover their needs.
The concept of inbound marketing was born in 2005 by HubSpot's co-founder and CEO, Brian Halligan. It began to be known in 2007, but in 2012 the inbound marketing concept started to grow. To justify the relevance of Inbound marketing, we're going to see some data:
· According to New Voice Media, 51% of clients will never do business with companies after a negative experience.
· Also, HubSpot confirms 93% of consumers said they are more likely to repeat purchases at companies with remarkable service.
In addition, in 2018, the Flywheel concept was introduced by Brian Halligan too. The change comes at the end of the buyer journey. Rather than throwing them away of the bottom of the funnel, they come back around, as it shows in the below. The main idea of Flywheel is that happy clients create more customers, so it emphasises the third part of the Flywheel, which is the delight.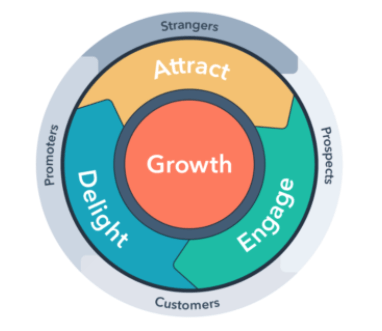 After that explanation, we're going to deepen the three flywheel concepts:
· Attract: Here, the idea is to provide valuable and educational content in order to establish you as a trusted company.
· Engage: In engage stage, the content is more focused on offering solutions according to your target audience pain points, needs and goals.

· Delight: Finally, when you get new clients, you must offer help and support to let them succeed with their purchase.
In inbound marketing strategies, we can also consider AIDA model, which is composed by the following stages:
· Awareness: In this stage, the users are aware they have a problem to solve.
· Investigation: Users do a research to find answers of their concerns.
· Decision: After having the information, they analyse it and decide which option is better.
· Action: Finally, users take the action.
The main difference between AIDA and Flywheel models, is that with AIDA the marketing department is focused on awareness, investigation and decision stages. The sales team works to users take the action. On the contrary, in the flywheel is not only focused on generating new customers, it also wants to keep them.
To conclude this first section, let's see some inbound fundamentals, according to HubSpot:
· Think about this: To do inbound, you need to be inbound.
· Remember, buyers have the power. They are empowered and have more information about your product, industry and competition.

· Help your customers.

· Grow better over the long-term when you offer content good-for-the-client.
· Empower your prospects rather than forcing them with interruptive experiences.
· Create an experience to add value to your prospects.
· Answer your prospects and clients' questions with helpful content.
· Provide solutions and insight.
· Become a resource.
· Make content easy and human to find the information they need.
· Make sure you understand what motivates your prospects and customers.
· Find opportunities to provide additional insight or information—Standardise for consistency.
· Contextualise for relevance. Optimise for clarity. Personalise for impact. Empathise for perspective.
2. Building your Buyer Personas

For a B2B Inbound marketing strategy, first, you must build the Buyer Persona in order to focus on qualified users and to give relevant content that suits the needs of your target. Consequently, you will be able to get high-value visitors, leads and, finally, clients.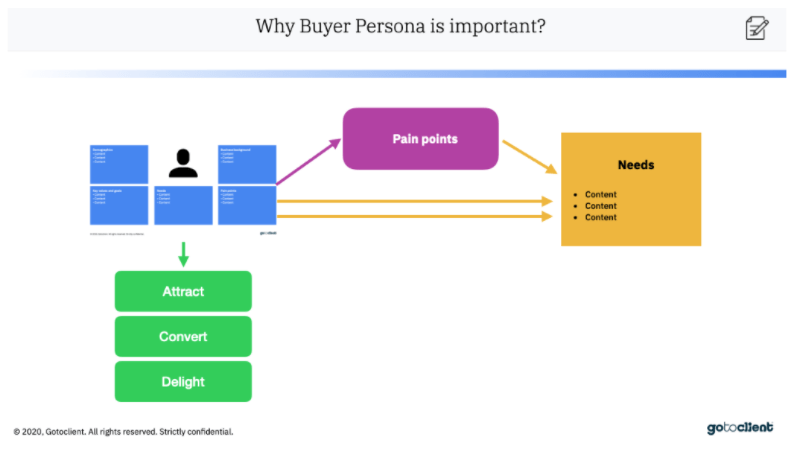 The first thing you have to do to build the Buyer Persona is to get key information about your customers. To do that, you can do the following:
· Look to your contacts database to know what kind of clients and prospects you have.
· Check your website's submitted forms and create new forms with information you have never asked but now you realised that it is essential (for example, the company size).
· Talk with salespeople and ask their feedback about the new leads generated, if they think they're qualified or not, and so on.
· Ask for your clients' opinion about your product or service, and also if they would improve any point of your product / service.
After collecting the information, it's time to organise it and identify commonalities. At this point, we recommend sharing this information to your marketing and sales team to get any additional feedback or input. When information is organised, you can start building the Buyer Persona. In case you identify more than a one Buyer Persona profile, create as many as you determine.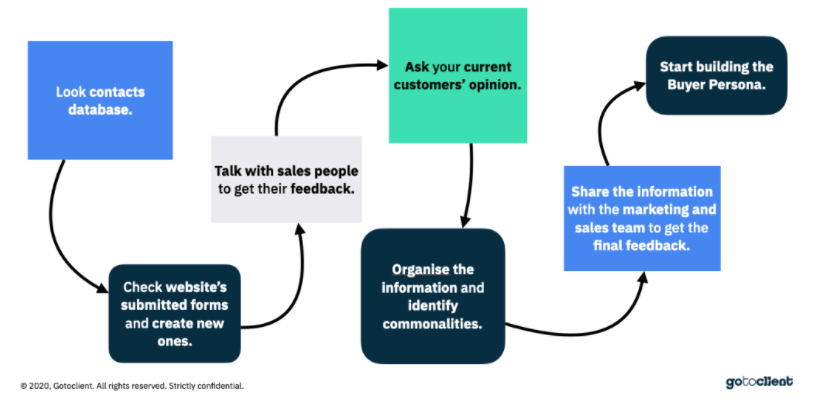 Collect as much information as possible with your contacts database, your current
website's forms and create new ones to ask the information you need and don't have.
Your Buyer Persona should contain the following information:
· Demographics: Gender, age, location and family situation.
· Business background: Job position and career.
· Key values and goals
· Needs
· Pain points
On the below, there's a buyer persona template made by us in order to put all Buyer Persona's information.
For a better understanding, here are two buyer persona examples. Both Buyer Personas are structured in the same way. In the first case, the sample is focused on a senior account manager working in the marketing department of a pharmaceutical company. In the second case, it's about a woman working as an IT specialist in a company. In both cases, the following information is explained:
· Demographics: They talk about their age, if they're married or not and where they live.
· Key values and goals: Here, it's explained what they want to achieve and what kind of information or solutions they want to get.
· Needs: Both cases show what they need to obtain in their companies.
· Business background: It's explained what their role within the company is, how long they have been in the company and how many years of experience they have worked in their related industry.
· Pain points: Finally, we summarise their concerns, which goals they believe they will not achieve.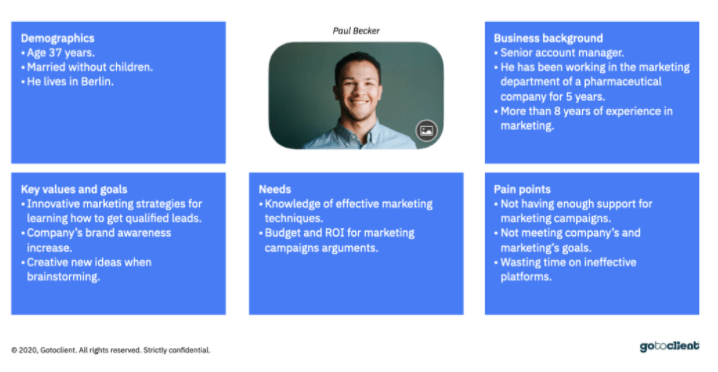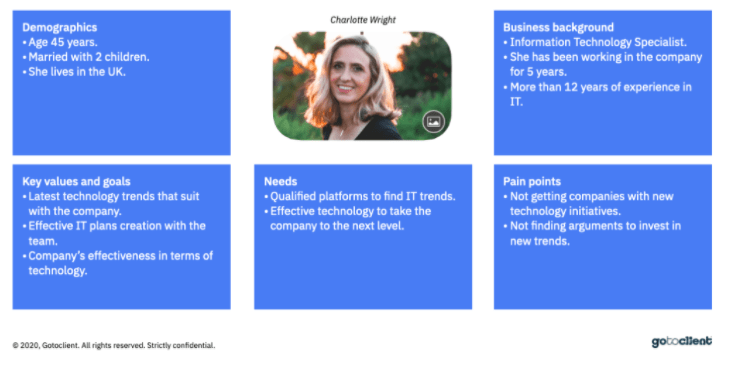 Buyer Persona information needed:
Demographics, business background, key values and goals, needs and pain points.
After developing the Buyer Persona, you will know which pain points your target audience has. And, when understanding the pain points, you will be able to conclude which goals has your Buyer Persona.
Finally, you'll determine which product or service can suit its pain points to carry out the positioning strategy and the offer.
3. Buyer journeys development
Building the Buyer Persona is essential to get to know in-depth the users of your target audience. However, it's also crucial to develop the buyer journey to know in which stage of the journey is located in order to give the right content. Now, we're going to classify each funnel stage to after be able to define and execute activities focused on their current stage position.
Top of the Funnel or TOFU
Also recognised as awareness. In this stage, you're looking to attract your target audience with your content. Users have realised they have a problem to solve and so they want to learn more about it. Here, you need to create content to educate your target audience related to a specific question, need or pain point they're looking to deal, but without a sales tie-in.
Middle of the Funnel or MOFU
During the MOFU or consideration stage, they are more focused on searching for information about the solution. Users are looking for concrete alternatives to solve the problem. As a result, the content must be educative too but also positioning your company as the solution. So, the MOFU stage fits with convert concept. In addition, the content must be more in-depth and more detailed compared with the TOFU stage content.
Bottom of the Funnel or BOFU
The decision stage corresponds with the delight concept. It is composed of those users who know the solution needed. At this point, you need to give a more customised and engaging offer in order to increase your opportunities for purchasing and building a long-term relationship.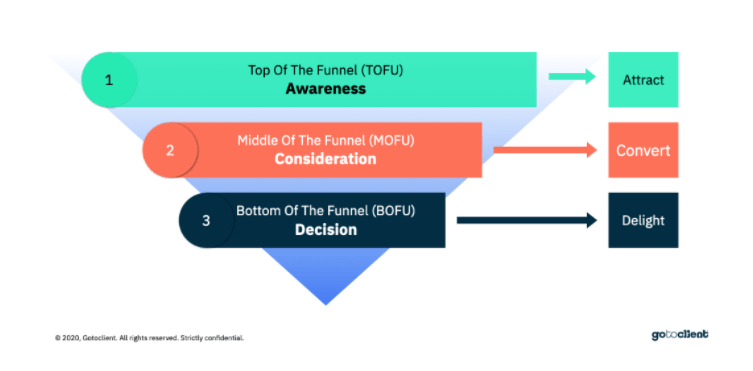 4. The Inbound marketing buyer journeys strategies
After defining each buyer journey, let's see which strategies you should take into account to generate new leads and engage your prospects to convert them into new customers. Depending on the dedication in each channel, you'll achieve specific goals. For example, if you focus your efforts in marketing automation, you probably will convert your prospects into clients, but you won't be getting new ones. Otherwise, if you only invest time distributing and promoting your content, you only will obtain new leads.
On the other hand, an optimal branding strategy will help in your inbound marketing strategy. The branding allows companies increase the loyalty of their current customers. As a result, this will have a positive impact in the revenue.
Email marketing
This strategy allows you to share and recommend new blog posts, content or offers to your prospects, and develop an automated workflow strategy. Sending targeted content to your prospects helps them to progress through the buyer journey. Let's see some statistics about why you must carry our email marketing strategy:
· According to the Content Marketing Institute, 81% of B2B marketers say their most used form of content marketing is email newsletters.
· Content Marketing Institute also states 87% of B2B marketers say email is one of their top free organic distribution channels. On the other hand, they also confirm 90% of content marketers say email engagement is the top metric they track to measure content performance.
· Finally, Email Tool Tester confirms 16% of all emails never make it into the inbox.
Content distribution and promotion
It's important not focusing only on content creation, as you also must make sure your content arrives at your target audience. For the downloadable content, you need to introduce attractive landing pages, with only the necessary fields. The landing page has to show the benefits users are going to obtain if they download the content. On the other hand, it's essential to introduce a thank-you-page when individuals filling the form. In the thank-you-page, you can also put additional content related to the offer.
To do that, you should think about which tools you want to distribute your content, for example, social media, emailing, among others. Here, you can also consider collaborating with other companies to get them to share your links. At this point, you have to choose carefully the companies you want to collaborate (for example, avoid contacting businesses working in the same industry as yours).
On the other hand, you can use paid ads to promote your content. In this case, we recommend developing campaigns in LinkedIn Ads. If you're more interested to learn how to launch optimal campaigns in LinkedIn Ads, you can visit our definitive guide. In addition, using tools like Google Ads or Xing Ads are also a good option.
For additional information about content marketing, you can check the Evelean editorial calendar.
Lead nurturing & marketing automation
According to HubSpot, 67% of marketers are using automation. At the same time, 70% of companies that automate report a benefit of better-targeted potential customer communication.
Marketing automation aims to convert qualified leads to new potential clients. This strategy replaces the cold call with customised, relevant content.
However, in the guide, there's a section where we specifically talk about marketing automation, if you prefer you can read it now!
Search Engine Optimisation (SEO)
Creating blog posts and advanced content must be accompanied by an SEO strategy, as they won't be found organically in the first place. In fact, SEO is integral to every part of an inbound marketing strategy. Qualified keyword strategy will cause your target audience to find your company, as you will introduce keywords that they will use to search for the information.
In order to find optimal keywords, we recommend using tools like SEMrush or Google Keyword Planner, as they will show you which keywords are more used with relevant metrics. In addition, it's important to increase your company domain authority to have better results in terms of SEO. To know how to improve the domain authority, we recommend you reading Respona's beginner guide.
When starting the Inbound marketing strategy, we recommend starting by generating content to increase web traffic. In addition, it's advisable to launch paid campaigns to obtain faster more traffic.
5. Key offers to develop in inbound marketing for each funnel stage
The offering is another key factor in obtaining B2B qualified leads and prospects. To provide the optimal offers, you should separate them into the different funnel stages. That's why we're going to mention which offers you should consider for each funnel stage.
Top of the Funnel or TOFU
Blog posts
Blogs are a good way to educate your target audience. Even though this strategy is apparently more focused on TOFU stage, it works for all stages. However, you must perform the content you will offer for each stage.
Key recommendations:
· Build a content plan: It's essential to create a content plan to determine which content you are going to develop and when. Thus, you will avoid focusing on a specific topic and publish relevant content about the topic that interests your target audience.
· Share the content more than once: If you don't amplify your blog posts on other platforms, it is probably that not all your target audience will see it. That's why we recommend sharing the content more than once over time. To do this, you can update your posts with new features to share them then again.
· Think about long-tail keywords: In terms of SEO, long-tail keywords work better than single keywords. Nowadays, it's a challenging task to rank specific keywords, so, we recommend inserting long-tail keywords, including the main one.
Infographics
This kind of content requires to mix visuals with text content. They're usually used to show statistics, step-by-step infographics, facts, among others. Infographics allow us to understand and retain the information quickly.
Key recommendations:
· Create a flow: An infographic should look like a story. It is advisable to structure the content in different phases to keep order.
· Write briefly: It's essential to provide well-written and valuable content, but it should be as brief as possible. Users do not expect a lot of content, so if there is a lot of text, likely, they will not read it all.
eBooks
Focused on more in-depth or more complex content. eBooks can be shared in all stages, but it's a more common TOFU strategy.
Key recommendations:
· Create content to position your company as a thought leader: You need to create relevant and qualified content to your target audience. An eBook is not used to provide only basic information (for example, definitions). It's essential users perceive your company as a specialist in the subject you talk about.
· Dedicate as much importance to visual as the content: Users tend to judge content based on how it looks like. Therefore, it's important to spend time on the eBook's design.
· Make the eBook interactive: Many users will read the eBook on a mobile device, so, it's recommended to make the eBook interactive. As a result, navigation will be more comfortable, where users will be able to go to the sections that interest them most.
Social media posts
Nowadays, social networks are key for both companies and users to share your solutions, news, trends, specific relevant information, among others.
Key recommendations:
· Be aware of new trends: It's recommended to carry out continuous research about what trends your industry talks about in social networks.
· Measure your results: To conclude if your social media posts are working, it's key to analyse metrics. Consequently, you will be able to conclude which kind of content interests most.
· Interact with your target audience: Users usually interact with companies, so, engage with your target audience. Also, we recommend making a comment on other accounts' posts where your target audience is also located.
FAQs
In order to not offer content in the same format always (for example a blog post), it's also a good practice to give content through FAQs.
Key recommendations:
· Make sure the questions are relevant: It's important not to be tempted to think what you would like to be asked and focus on the questions your target audience ask.
· Allow search: For those pages with a large number of questions, it is advisable to classify them and add an inquiry. As a result, this will make more comfortable reading.
Middle of the Funnel or MOFU
Case studies:
A good way to demonstrate how valuable your products or services are is through case studies. With case studies, you can share your successes in order to make your target audience become a customer.
Key recommendations:
· Add real numbers: Your case studies must show real numbers in order to compare between project's goals and results. The more you specify, the more truthful your case study will be.
· Make them accessible: It's recommended to add your case studies somewhere visible on your website, and also on posts, social networks, landing pages, among others.
Webinars:
With webinars, your company can get qualified leads and also build a relationship based on trust and closeness. So, it's a key strategy you need to consider.
Key recommendations:
· Connect your target audience's needs to your solution: In a webinar, we recommend talking about the challenges your target audience has, and how can your solution solve them.
· Give another offer in the webinar: At the end of the webinar, you can give another offer related to the webinar's content, for example, an eBook, infographic, etc. This can help to provide additional value to your webinar and give an optimal experience to the attendees.
· Provide value to those users who didn't attend: It's important to not forget about those who filled in the form but couldn't participate in. Here, we recommend sharing the presentation and also the recorded version.
Livestreams:
Unlike webinars, live streams are more focused on entertainment than educating. Also, the event is public with free access, and it can be replayed indefinitely. So, it's an excellent option to engage with your target audience and to arrive at those users who have a busy schedule, and they probably won't be able to watch it live.
Key recommendations:
· Improve response times: When users ask something in live streams, they want to be answered as soon as possible. Good real-time interaction with users will impact their engagement.
· Repurpose your live video: Livestreams can be a useful resource for your website to arrive at more users.
White papers:
Using white papers are recommended to increase awareness and consideration with your target audience.
Key recommendations:
· Keep the content short: Users want to find relevant information, but they prefer not spending too much time reading it. So, keep white papers concise and straightforward.
· Optimise the text: Although it's an offline content, you need to add keywords and items that interest to your target audience.
· Publish your white papers: White papers are an offline tool, but for search reasons, we recommend making them available on your website.
Podcasts:
As podcasts are generally less used to share information, it's an excellent strategy to stand out from the market.
Key recommendations:
· Think about SEO: It's essential to implement an SEO strategy because platforms where you can upload your podcasts, will be probably search engines, like iTunes and Google Podcasts. So, we recommend dedicating time in thinking about a title and description for your podcasts.
· Be consistent and find the balance: As with all the strategies, you need to build a content plan and not dedicate lots of podcasts talking about a specific subject. If not, it will be boring.
Videos:
According to Wyzowl, 88% of video marketers reported that video gives a positive ROI. Instead of offering content though more common strategies like a blog post, you can exchange it with video format content.
Key recommendations:
· Put subtitles on the video: It's probably that users watch your videos on mute, so, consider adding subtitles.
· Intercalate videos with text format content: It's a good practise to mix both and to intersperse them to offer a more engaging content to read / watch.
· Push your videos on social networks: Share your videos on social media to increase views.
Survey analysis:
Offering surveys are good practice in order to get users information. You can make available a survey asking specific questions and after giving users an analysis related to the survey's results.
Key recommendations:
· Don't build too long surveys: It is essential not to ask too many questions to make the survey as pleasant as possible. So, focus on asking only for the necessary information with simple questions.
· Ask closed questions: We recommend asking closed-ended questions with specific choices (for example, yes or no). Consequently, it will be easier to analyse the answers.
· Explain before how your surveys can help your target audience: Users should know what your survey is about and also what it will bring to them. For example, you can explain analyses carried out with other surveys.
Checklists:
Checklists are useful to help your target audience to give indications of the different steps to take into account when doing a specific activity.
Key recommendations:
· Provide additional information: When building a checklist, it's advisable to put additional information. For example, if a specific step is difficult to understand or carry out, you can add a link to another post or tool that explains it.
· Insert the checklist in other strategies: In order to increase checklists' visibility, we recommend adding them in other resources, such as blog posts, eBooks, webinars, social media posts, among others. It is essential to invest time in creating the checklists' content but also in promoting them.
Calculators:
This kind of tool helps to build long-term relationships with your clients. Calculators help users to make better decisions on their projects.
Key recommendations:
· Create useful calculators: Before creating a calculator, it's essential to think what users mostly need to measure and have more inconveniences in making these calculations. The more useful your calculator is, the more likely your target audience use it more than once.
· Monitor the information: Analyse the information users insert and think if you can give them a special offer that suits their needs.
· Promote your calculator: It's essential to share your calculators through social media, blog posts, among others.
Bottom of the Funnel or BOFU
Demo:
More focused on products than services. It's an excellent option to make your product known in-depth, showing how it works and its advantages.
Key recommendations:
· Offer a demo for more complicated products: Sometimes, there're products that before using it, users need to understand how they work. So, in these cases, it's a good practice offering a free demo.
· Focus on the most relevant benefits for your target audience: Make sure that you're going to show those product's specifications and benefits that interest to your target audience.
· Give free training: It's recommended not only providing information about how the product works, but you can also give free training to offer a value-add.
Trials:
Trials are focused both for products and services. Your team allows users to compare your service / product with others.
Key recommendations:
· Don't ask for credit card information: It's commonly thought that asking the credit card information will allow getting new customers. But usually, when users see that they need to add this information, they don't apply to the free trial. Only require the credit card information when leads make a purchase.
· Give a discount if leads buy before the expiration: In order to increase purchase opportunities, offer a discount if they buy the product / service before the trial ends to get more clients.
Consultancy:
It's essential to have a first contact with your leads before the purchase. Sales consultancies are an excellent way both for products and services.
Key recommendations:
· Offer relevant information: Give essential details, like some best practices, share some relevant data they won't find on the internet.
· Make sure your leads trust you: Give users reasons to trust your company. To do that, we recommend giving advises and assessments disinterestedly.
· Give free material: It's advisable to give some free material that they don't expect. As a result, users will have a good memory of your company.
Free quotation with added discount:
In order to increase purchasing opportunities, giving free quotes are a good practise. Users will know exactly how much the service costs and why. In addition, you need to add a discount to give value to the offer.
Key recommendations:
· Offer a limited discount: When you explain the quotation and discount, it's more attractive to mention that it is limited. For example, leads will have a discount if they hire your service or product in less than a month.
· Do a continuous follow-up: After sending the quotation, it's important to do a follow-up with your leads. Ask if they have any questions; also, we recommend scheduling a meeting to prevent your leads, forgetting your proposal.
To conclude this section, here's a summary with the three phases and their corresponding strategies: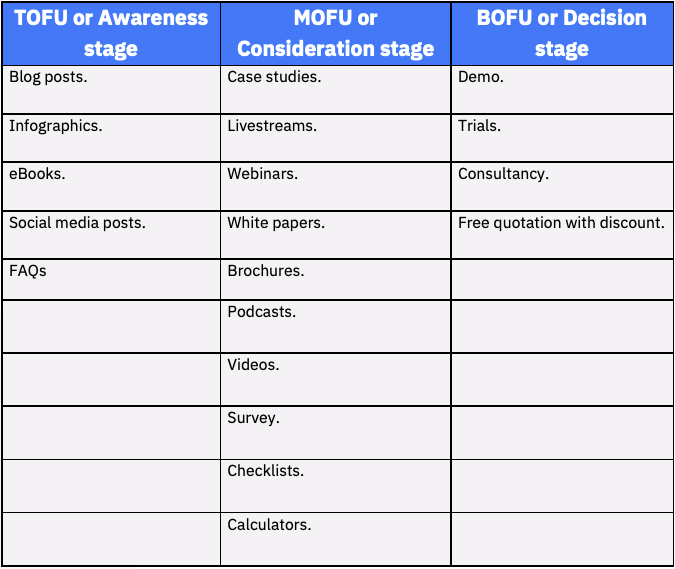 In case you launched B2B inbound marketing campaigns before, we recommend analysing
what succeed and not to conclude which strategy you need to develop now.
6. The importance of marketing automation in inbound marketing
As a brief introduction, marketing automation consists of using software to automate marketing activities. This technology can provide a more customised experience to your leads, and also a more effective strategy. According to HubSpot, 50% of your leads are ready to buy. It's essential not focusing only on generating leads and also invest time on nurturing those leads who are not prepared with Marketing automation. In addition, Nucleus Research confirms it increases companies' efficiency by 20%. That's why you need to combine both inbound marketing strategy with marketing automation. On the below, we explain some reasons:
· Engage with your leads: Depending on the stage your leads are located, you can create an email workflow with content that covers their needs. The marketing automation system will send an email automatically depending on the prospect's action.
· Nurture your leads: Marketing automation is created to nurture leads into customers with relevant information.
· Give customised content: With marketing automation, you will be able to create a unique experience for each prospect, giving personalised information.
· Save time: With a marketing automation tool you can automate repetitive or difficult tasks. Also, it allows to schedule your posts and emails with a marketing automation system. As a result, it will increase productivity too.
· Guide your leads along the buyer's journey: It also allows you to take your prospects along the journey to the purchase stage.
· Control the results: This software allows to know where the lead comes from and how is it going its conversion journey.
Implement a marketing automation strategy to reduce the chances of losing potential leads.
Save your time using available tools to help with your strategies.
After knowing what marketing automation is and why you need to consider, let's see how to implement the marketing automation strategy in inbound marketing campaigns.
Define goals: You need to set how you will measure your results in order to know if the marketing automation plan is succeeding. To do that, goals need to be SMART (Specific, Measurable, Achievable, Relevant and Time-bound). For example, a SMART goal might be: "increase number of new customers via marketing automation by 25% by the end of 2021".
Consider the buyer's journey: You need to analyse and develop which automated content you're going to give in each stage, from when you get a new lead until it becomes a client. Therefore, in the different stages, you will have to offer from more educational content to some specific offers.
Educate your leads with dynamic content: With dynamic content, you can send to your leads customised information depending on the action they take. For example, let's say a user fills the form to download an eBook. When receiving his / her information, you can automatically send an email with content related to the eBook.
Implement lead scoring: This strategy allows to conclude if the lead is closer to the Buyer Persona. Also, to know if it is ready to buy or needs a nurturing process. To see how it works, you can check our B2B lead generation definitive guide with this link.


Optimise your content and strategy: Depending on the results of your strategy, you need to make the necessary changes to get optimal results. As a result, you'll give the most appropriate customer experience.
Finally, we're going to mention the strategies that best work for marketing automation:
Website live chat
A live website chat is an excellent way to get new qualified leads that would be lost if they didn't get the opportunity to ask questions and receive immediate answers. Nowadays, there're available solutions that allow having a live chat without having someone continually supervising the chat.
Key recommendations
· Give a quick answer: According to Econsultancy, 79% of clients say they prefer to live chat because of the instant response it offers. So, the lower is the response time, the higher is the customer satisfaction.
· Provide scripts to give faster answers: Building well designed live chat helps to deliver more immediate responses. As a result, the information will be provided more quickly, and you will save time.
· Measure your results: In order to know what you need to improve or not, it's important to measure the first response time, total of conversations and visitors. Consequently, you will be able to enhance your leads' experience.
· Obtain relevant information from conversations: You can take the dialogue with users to know in-depth them. They may be found common gaps or needs, so you can act based on this.
Email Automation
Another effective strategy for marketing automation is email automation. You can create and schedule different emails for each buyer journey stage with customised content or offers.
Key recommendations
· Segment your list: Segmenting your email lists allows you to make groups based on leads' specific characteristics, like where they filled the form, which content they already have, their demographics, among others. Consequently, you will be able to build more personalised emails with relevant content.
· Create an email workflow: Here, you need to predict the possible actions the leads will take. For example, if you send the first email, you have to define which content you will send in case they open or not open the email, and so on.
· Build an email calendar: Also, we recommend building an email calendar to avoid email saturation or periods of emails' inactivity.
· Humanise your messaging: The more humanised your email is, the more opens and answers you will have. Here, it's advisable including personalised content.
Social Media Automation
Social media automation helps to optimise social interactions using automated tools. This strategy includes social posts scheduling and posts republishing. As a result, you also will be able to save time and organise better the content to publish.
Key recommendations:
· Republish social media updates: Those social posts that have optimal results, you can consider republishing them. However, you cannot republish a lot, as users may change the perception of your company.
· Use chatbots: In order to answer users' questions, you can use chatbots to provide immediate answers and support. In addition, you can use chatbots to inform users that you'll give them information in X hours.
· Give different type of content: Think about what topics you are going to talk about in your social networks. To do that, you have to analyse what your audience is interested in.
Mix all strategies to provide the most customised experience to users.
7. Platforms to carry out a B2B Inbound marketing strategy
For B2B inbound marketing strategy, there are effective platforms that help to carry out effective campaigns. So, on the below, we're going to mention which inbound marketing tools we recommend when building an inbound marketing strategy.
HubSpot is one of the most recognised inbound marketing platforms. This platform offers tools and resources to build a complete inbound marketing strategy, from the awareness phase to lead generation and client conversion.
Going into detail, HubSpot allows creating CTAs, landing pages, blog posts, forms, lead flows, conversations, website platform, email marketing, meetings, deals, tasks and activities, etc. Also, it allows to integrate with platforms like Gmail, Outlook, WordPress, Zoom, and so more.
HubSpot is effective to grow your business, for the following reasons:
· Develop your software to obtain new qualified customers thanks to the Marketing Hub option. It offers a SEO tool to identify relevant topics and keywords. On the other hand, you can also manage your social media accounts and also paid ads.
· Automate contacts. It includes the lead scoring option to indicate which contacts are more likely to hire your services or products. HubSpot also has a workflow option to develop the journey from you get the lead until you convert them into a client. Key tip: If you find a group of users like a specific topic, you should send them related content automatically.
· Create chatbots to maintain an automatic conversation with users. HubSpot also record the dialogues.
· Build your website with dynamic content. It also allows testing the sites to see which one generates more traffic.
Marketo is also a platform that covers all buyer journey strategies with activities like CRM integrations, landing pages, marketing automation, email marketing, lead management, among others.
Nevertheless, you need to take into consideration that Marketo offers a solution to specific industries, which are: healthcare, manufacturing, higher education, financial services and technology.
As a result, Marketo fits your company if:
· Have previous experience with inbound marketing strategy. Marketo can be a difficult platform to use for those companies with little experience in online marketing because by offering many solutions, it becomes unintuitive.
· Need only a number specific of solutions. The platform offers customised solutions to professional's clients.
This platform also offers solutions for all buyer cycle phases through multiple activities, like email marketing, landing pages, forms, ads, reporting, content creation and lead management.
It allows integrating with some popular tools like Google Analytics, Marketo, Oracle, Datadog, etc. Eloqua is an optimal option for companies that:
· Want to hire a customised and complete inbound marketing platform.
· Focus on platforms for professionals with experience. As in Marketo, Eloqua is also more focused on experienced professionals in inbound marketing.
· Define an effective audience segmentation. Eloqua has optimal segmentation capabilities to find the best audiences for your campaigns.
Salesforce is a CRM software that helps to manage efficiently leads, prospects and clients' interactions. Also, it allows building workflows for marketing automation strategies. This platform is useful for companies that want to:
· Analyse deeper with data and metrics to extrapolate conclusions from the results.
· Create more customised content for automated campaigns.
This platform is a CRM software tool more focused on small companies. Pipedrive helps to organise leads, generate leads and improve the sales process. It also offers an email integration to connect your emails with your contacts.
So, Pipedrive is an optimal platform for companies that need to:
· Hire cheap CRM. Pipedrive is aimed for small companies that don't need a complete tool.
· Track every step in the marketing process in order to optimise the strategy and get qualified results.
· Get better sales insights.
This platform is a site builder, and so it offers content management systems. WordPress can be used for more complete websites or more straightforward blogs. There're many tools to hire but note that some of them require knowledge about HTML CSS and programming language PHP.
WordPress can be useful for professionals:
· Need to hire a flexible and adaptable website builder platform in order to make continuous changes required.
· Want a user-friendly platform to run the website efficiently.
Gather content is a SaaS platform to create, edit and review website content. It allows organising the content to have the information under controlled. In addition, Gather content offers many templates when building website pages.
Gather content is a good option for companies that want to:
· Keep all the website content in only one platform.
· Build qualified content through practical steps provided by the platform (for example, editorial review, SEO review, final edits, among others).
· Let many team members edit the content at the same time.
This platform is an online form builder with many templates to use, reporting analytics, integrations and so on. So, Jotform is an optimal choice when companies need to:
· Create many forms in different formats (for example, smart pdf forms, mobile forms, etc.).
· Build forms for specific industries. Jotform offers forms adapted to companies' needs.
Typeform allows companies to build both forms and surveys. The main differentiating element of this platform is that it asks one question at a time to keep users engaged. It also allows integrating the platform with many tools, like Google Sheets, Mailchimp, HubSpot, etc.
This platform is aimed at companies that want to:
· Interact with users in order to keep their interest.
· Integrate forms and surveys with other tools. Typeform offers a free API to facilitate that integration.
· Build forms and surveys easily.
Unbounce is a landing page creator platform. It has more than 100 landing pages templates and also allows to build a customised landing. This platform works with many other tools like Google Analytics, Zapier, Facebook, among others.
When launching the landing pages, the platform shows real-time data to conclude if they are performing. Unbounce is a good option for companies that:
· Complement their inbound marketing platform with a complete landing page tool.
· Need a platform with many options to create a landing page.
This platform offers a chatbot program to create automated conversations with users. Drift can develop customised chatbots with real-time personalisation and provides metrics and results to have a clear picture of which conversation works and which pages go users most.
As a result, Drift should be hired by professionals that need to:
· Hire a complete tool to create effective chatbots.
· Focus the marketing automation plan on chatbots strategy.
· Increase engagement with visitors.
One Signal offers push notifications capabilities for websites and mobile apps. When sending notifications, the platform shows the results to analyse the impact.
This platform can be useful for companies that want to:
· Build an optimal marketing automation plan.
· Increase engagement with users.
· Give a customised experience to their target audience.
MailChimp is an email marketing provider in order to be able to send offers, relevant information, updates, among others easily. It's an easy-to-use platform with different options to hire in order to adapt to the needs of the clients.
Having said this, MailChimp is a good option for professionals that need to:
· Create emails with no previous experience required.
· Hire an email marketing platform investing the minimum possible. MailChimp offers a free plan and other economical packs.
This platform is a social media management tool. You can schedule your posts in many social networks' channels at the same time. Also, Hootsuite helps to keep track and manage your social accounts.
Hootsuite is focused on users that want to:
· Control and manage many apps on one platform.
· Optimise time in the social media content strategy.
· Analyse faster and easier the posts' results from all social networks.
ClickMeeting is a web conferencing platform, which allows to schedule meeting in advance. During the session, the platform also allows sharing the screen, presentations or videos. Also, with ClickMeeting, you can create surveys and tests during the webinar.
So, this platform is a good option for professionals that need to:
· Manage many webinars, so they need a platform to get support and facilities. Minimise the time when setting up webinars.
Consider hiring more than one tool, depending on your company's needs.
There're more available tools that we didn't mention. We just remarked those we trust.
8. B2B Inbound marketing KPIs
When launching B2B inbound marketing strategies, it's essential to track and measure the results to determine if your campaign is performing effectively. In addition, with KPIs help you to develop strategies for the long term.
So, according to the strategy, there's many KPIs to consider:
SEO
· Backlinks: The number of times other sites linked your website pages.
· Keyword ranking: The position which appears your website on search engine result's page when introducing a specific keyword.
· Organic search traffic: The number of users that came to your website by searchers like Google.
· Pageviews: The number of times users visit your pages. Here, it counts all views made by users.
· Sessions: The number of times users visit your website and stay for X minutes.
· Total traffic volume: The total number of visitors within a certain period.
· Website conversion rate: Here, you have to take your purchases or conversions and divide it by the number of visits.
Website engagement
· Return visits: The number of users come back to your website within a certain period.
· Time on page: The number of minutes your visitors star on your website.
· Unique pageviews: The number of unique users that visit your website.
Traffic sources
· Bounce rate: The number of users that visit your website and leave immediately.
· Paid traffic: The number of visitors through specific campaigns.
· Display traffic: The number of users that visit your website through paid campaigns of our site appearing in other websites.
· Direct traffic: The number of users that visit your website by typing your address on their browser.
· Organic traffic: The number of users that visit your website through search engine results.
· Social traffic: The number of users that go to your website through your social media posts.
· Email traffic: The number of visits generated by emails send.
· Referral traffic: The number of users that visit your website by clicking from other websites' links.
Paid Ads campaigns
· Impressions: The number of times your audience see the ad.
· Clicks: The total number of times your audience clicked the ad.
· CPC (Cost per Click): The total cost for each click.
· Leads: The total number of users converted into leads.
· CPL (Cost per Lead): The total cost of each lead.
· SQL (Sales Qualified Lead): The total number of leads that convert into sales qualified leads.
· MQL (Marketing Qualified Lead): The total number of SQLs that are likely to convert into clients.
· CAC (Customer Acquisition Cost): The total cost of each client.
Email Marketing
· Delivery rate: The total number of emails delivered to users.
· Email open rate: It shows the percentage of the total number of users that opened the email. In order to calculate it, you have to take the total number of emails opened and divide it by the total number of emails delivered.
· Spam rate: The rate of how many users receive emails as spam.
· Unsubscribe rate: The rate of how many users unsubscribe from your mailing list.
· CTR: This represents the percentage of users who saw the email and clicked on the links. To calculate it, you have to take the total number of clicks and divide it by the total number of emails opened.
· Form conversion rate: This represents the percentage of the total number of users that fill the form in a landing page. To know this, you have to take the total number of forms filled and divide it by the number of landing page's clicks.
· Conversion rate: The total number of users that become a client o make a purchase.
Content Marketing
· Downloads: The total number of users that give their contact details to download content, attend a webinar, among others.
· Leads
· MQL
· Organic traffic
· Pages per session
· Time on page
· Client Value: It represents the total amount you spend with each of your clients.
· Revenue: The total revenue of a specific period.
· ROI: The return on investment. It helps to determine if it makes sense to launch the campaign.
9. [Checklist] Steps to follow to launch a B2B Inbound marketing campaign
As a B2B inbound marketing agency, we believe inbound marketing strategy is key for companies. That's why we put at your disposal our knowledge.
Also, let's brief the guide with the most relevant points:
Understand the basics of Inbound marketing to be able to launch an inbound marketing campaign.
Build an effective Buyer Persona with detailed information.
Develop the buyer journey with their strategies and offers.
Carry out a marketing automation strategy.
Choose which platform you prefer to launch your inbound marketing campaign.
Measure your results with inbound marketing KPIs.
We hope the information is effective for your campaigns!
This guide concludes with a checklist to take into account all the steps to launch a B2B inbound marketing campaign, which you can download here.
We'll be delighted and happy if you want to contact us for any questions or opportunities to carry out!