The Channel loyalty program definitive guide 2021
Based on our channel programs experience, we created the channel loyalty program guide to provide valuable information to professionals that need to build and run effective channel loyalty programs.
So, this is an advanced guide for users with a higher level of information related to channel programs.
First, let's see some relevant statistics. According to Invesp, 95% of marketers say they know how important multichannel is, but only 73% have a multichannel strategy. Invesp also states that multichannel shoppers spend three times more than single-channel shoppers. The most used platforms to communicate with partners are social media (16%), email (14%), advertising (14%) and website (14%). The most common reasons why marketers don't develop multichannel strategies are lack of time and resources (23%), lack of buy-in at board level of investment (23%), and lack of investment in tools.
In addition, only 30% of marketers are confident with multichannel strategy, and a 67% which are not highly secure. Finally, 50% of multichannel marketers say they usually or always achieve their financial goals.
So, whilst there is an increasing understanding from seasoned marketeers that multichannel strategies are key, there is still very little marketing targeted to your actual distribution channel. Putting the channel entities (distributors and all kind of resellers) in the centre of your strategies can have several benefits:
· There are many quick wins. Whilst acquiring new clients, whether those are consumers or businesses is costly, activating a channel program can usually make the difference where demand also exists! Typically, channel programs will increase your market share in the selected channel.
· It's a step beyond traditional channel programs. Most companies operating with direct distribution channels, are already using sales channel programs, typically consisting of back-end rebates and training. Typically, those channel programs, which tend to be tier-based, are based on the channel readiness need from the brand, rather than on loyalizing channel resellers.
Why this guide?
Find useful information on how to build a channel program
Understand the key points of channel loyalty programs and apply them to your strategy
In this guide, you'll find:
· High-quality information about channel loyalty programs.
· Relevant tips & tricks and key recommendations to build an effective channel program.
· How to build a channel program that becomes a case study.
· Free resources to help you with your programs.
1. The basics: the importance of Market Development Funds (MDF) and Co-Op funds

The Market Development Funds (or MDF) and Co-Op funds are both key strategies for distribution channels. A 2015 Gleanster reports show that:
83% of brand marketers believe MDF and CO-OP programs have an impact.
The average annual spend in MDF is 12% of the overall marketing budget.
What are the differences between these two concepts? Which one should you use?
Market Development Funds (MDF):
The Market Development Funds are based on channelling monetary funds to channel partners against the execution of marketing activities. The key benefits are:
· When used correctly, as a brand, there is clarity on the activities KPIs. Your channel becomes an extension of your marketing team.
· Being upfront negotiations against the execution of critical activities, when used with the right level of strategy, brands can drive the demand through MDF.
Co-Op Funds:
Typically, the concept of 'Co-Op funds' is used to define funds provided to those channel partners who have already sold the product or service. These funds are usually based on the percentage of prior sales. They are marketing based rebates.
· Co-Op funds can act as a sales driver, obtaining higher revenues.
· Sometimes, they can effectively replace sales rebates, meaning that
In order to understand better the difference between both concepts, here's a comparative table:


Marketing funds, whether those are MDFs or Co-ops, are the first layer in channel loyalty programs. Should you not have those, think about your goals to define which scheme works better. In any case, here are some best practices for both programs:
· Make your program easy: Your partners must understand the rules, goals and expectations. An online portal where partners can manage their account and visualize their status is a good idea.
· Engage with your partners: Make sure your partners know they are the centre of the program. To do that, it's advisable to have active and ongoing communication with them and provide some training to generate engagement.
· Track results: This will help in understanding the gaps and compare the estimated goals and real results.
· Have a good activity implementation system: You must have under controlled of the program, know what activities are doing the partners, if they are running sales, among others. Consequently, it is essential to have an optimal implementation tracking system.
Focus on making your program easy to understand and track!
2. The process of creating a channel loyalty program

Let's deep dive in the program setup process:
Decide which kind of channel program you need
According to your goals and needs, you should implement one or another program. There are two significant types of channel loyalty programs.
· Based on the breadth goal: In this case, the main idea is to extend the channel in order to increase the overall run rate. The idea behind this is enlarging your channel pyramid.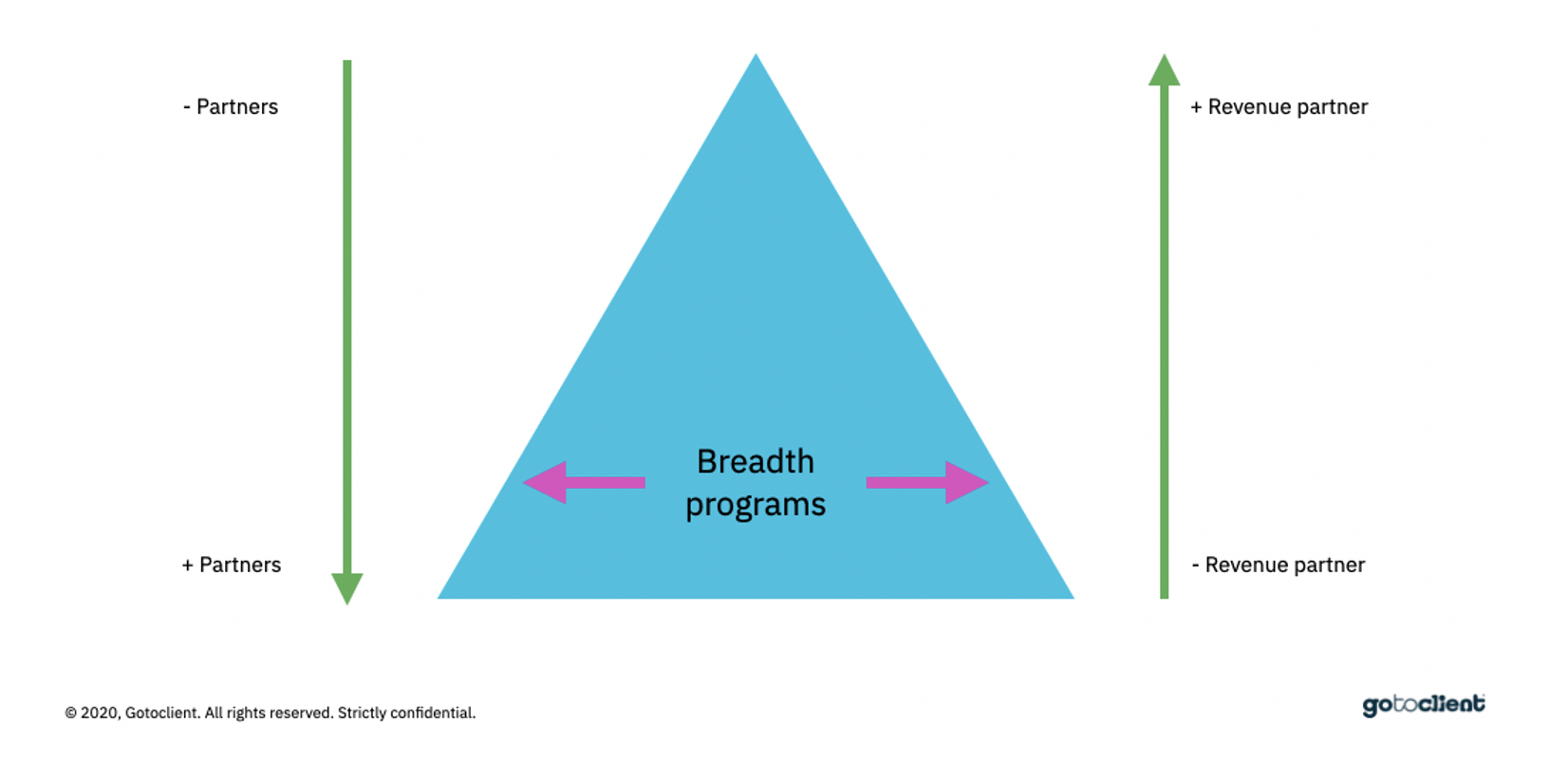 · Based on the depth goal: The goal is getting more market share in existing channel partners, extending their turnover. Therefore, as a key difference to the previous goal, here, the idea is to obtain the best results from the current channel partners.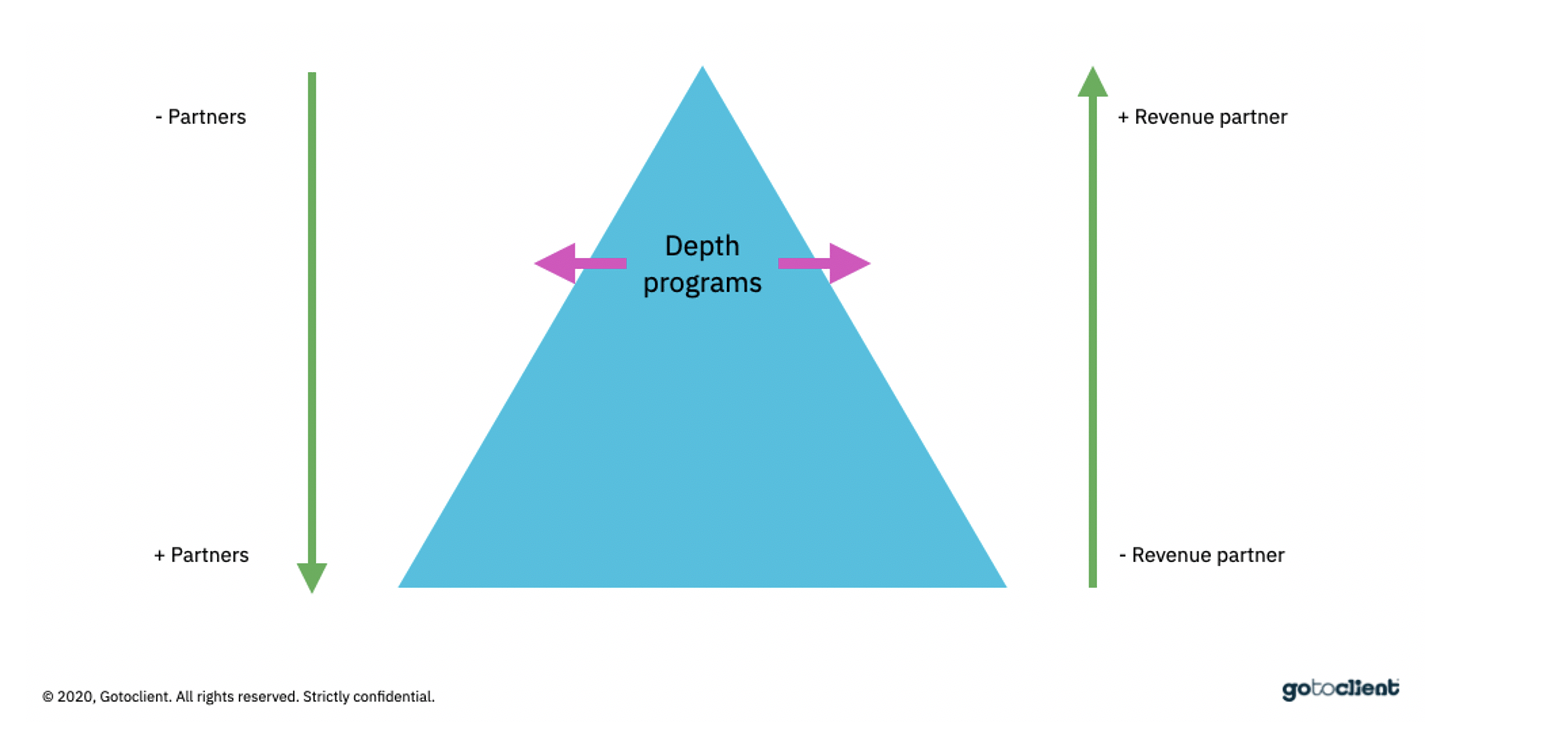 According to the program key goal, channel programs will have operational differences as follows:


Define which type of qualified channel partners you want:
When you consider implementing a loyalty program, it's essential to choose qualified channel partners that will help you to expand your business. In order to get qualified partners, consider collecting the following information from partners:
· Are they familiar enough with your brand / value proposition?
· Current engagements with competitor companies.
· Commitment level they can show.
· Knowledge about the service or product you sell.
· The average product or service volume they sell per month / year.
Think about training implementation
After choosing your partners, you should evaluate the need for the training to your channel partners. But first, you need to answer the following questions:
· Are your partners currently offering similar products or services than yours?
· Are they implementing marketing and communication strategies?
· Are they evaluating their results continuously?
If all or some answers are "no", you should reinforce the necessary areas with your partners in order to obtain efficient loyalty program results.
The more you know about your product or service, the better they will be able to sell them. And so, with the other points. Consequently, it's an essential investment in your program.
Setting your channel program goals
As in any loyalty program, to make them successful, you first need to set objectives. Those should be SMART goals (Specific, Measurable, Attainable, Relevant, Time-bound).
On the other hand, consider what KPIs provide a better measurement of your goals:
· Registrations rate: Getting new members is critical to generate revenue, especially of course, in the breadth type of programs.
· Channel partner lifetime value: The lifetime amount of money each partner is expected to spend on your business during your relationship.
Channel partner lifetime value = Average order value x number of iterations per year x average retention time (years)
Of course, you should consider seasonality when identifying the average order value.
· Channel retention rate: The percentage of channel partners that are staying with your company. There's no specific formula for that, but Jeff Haden on Inc has provided an accurate way of measuring the Customer Retention Rate, which can be extrapolated to channel partners as follows:
· Channel partner retention rate = ((CE – CN) / CS)) x 100
Where:
CE = Number of channel partners at the end of the period
CN = Number of new channel partners acquired during the period
CS = Number of channel partners at the start of the period
· Channel partner redemption rate: It shows a comprehensive overview of how relevant the program to the end consumer is. The redemption rate is calculated as on the below:
Redemption rate = Number of coupons redeemed / Number of coupons issued
· Repeat purchase rate: If your goal is breadth and you want to run sales, this metric will be essential for the program. It helps you to know the consumers' loyalty level. In addition, with this formula you can estimate your sales volume. This is calculated as follows:
Repeat purchasing rate = Number of channel partners who have shopped more than once / Total Number of channel partners
· Net promoter score: This metric calculates your clients' experience to estimate your company's growth. Here, you have to develop some key questions and answer them using a 0-10 scale. When you have the responses, you will be able to classify your customers in the following groups:
Promoters (score 9-10): Users who are extremely likely to recommend your company.
Passives (score 7-8): Users who are satisfied, but they're not going to recommend your company.
Detractors (score 0-6): Unhappy users who may hurt your company's reputation.
Choose the right channel loyalty program platform
Working with a platform is a must. Only in the case of depth-based channel programs, where you work with a limited amount of channel partners (for example, less than 10), excel files can be the right support. Otherwise, when working with many partners, not running the program on the right kind of platform can quickly cause loss of control.
In case you conclude you need a platform, in section 4 we attach a list with the most important ones.
Keep an ongoing communication with partners
Communication is a crucial element of any channel loyalty program. Our recommendations are:
· Develop a cohesive and proactive communication strategy: You can improve your communication effectiveness by considering:
Develop the message definition you want to say to your partners.
Plan your communication frequency.
· Segment your partners: in case the program is broad, it is essential to adapt your communication to each type of partners in order to make your message relevant.
· Direct communication: In addition, it's important to communicate separately with your partners, either face-to-face or online to build a closer relationship.
Talk directly with some of your partners! Be close to them.
3. Channel loyalty incentives types
There're several loyalty program incentives to choose in your programs. Let's explain each of them with some key recommendations:
Channel sales incentives
This is the most common type of incentive. Partners are rewarded according to their sales volume, margin or achieved goals. The most common awards are gift cards, entertainment tickets, lunch tickets, tech gadgets, among others.
Key recommendation:
· Be realistic with your sales incentives: Have a very clear picture of how much you can invest / euro sold and limit the program to those.
· Update your sales incentives: For example, if your company is growing, you can reward your partners by increasing the incentives' value.
Don't forget your budget and set realistic incentives
Channel SPIFFs (Sales Performance Index Funding Formula)
In this case, partners receive a percentage of the volume sale. Channel SPIFFs are more short-term incentives compared to others as they receive the cash automatically.
Key recommendations:
· Build your SPIFFs strategical: Focus your rewards mainly on those solutions that are working better.
· Make sure partners are funded quickly: Be quick when paying them.
Channel rebates
Key recommendations:
· Pay on the net price: In case you offer multiple channel incentives, you must calculate the rebate accurately. That's why a good practice is to pay a volume rebate on the net price.
· Don't mix discount and rebate concepts: You must avoid the word "discount" as partners will assume the program as an incremental discount. So, make sure you keep the conversation about rebates and not discounts.
Referral incentives
Here the main goal is to expand companies' reach. So, partners are rewarded for deal registration and new opportunities identified. These incentives can also be gift cards, debit cards, etc.
Key recommendations:
· Amplify your incentives beyond your partners: Other businesses not included in your channel loyalty program may also be recommending your company. If you find new opportunities thanks to a website that's mentioning your business, provide the owners' website with a referral too. But, in this case, you should offer simpler incentives, and if they want to start a formal collaboration with you, then you can give them higher value incentives. As a result, you'll avoid your current partners feel less valued.
· Make sure your partners are not only focused on the incentives: Partners must feel motivated, but it's important the motivation is not only to receive the incentive. Consequently, if you decide to give a less attractive type of incentive, the pace of work of your partners will decrease.
Consider providing incentives to those who show the best commitment.
You can make them even more loyal to your company.
Warranty registrations
Warranty registrations your channel partners can replicate to their customers are a type of incentives you can provide.
Key recommendations:
· Give your channel partners incentive: When partners obtaining new customers' data, we recommend providing them incentives. You can offer them discounts, gift cards, etc.
· Show gratitude for their efforts: People want to feel their efforts are helping. That's why you should call them or send an email just to recognise their work. Thus, you'll see they feel more motivated.
Enablement and training incentives
In most cases, partners work with more than one company, and of course, your competitors. That's why providing enablement and training as an incentive is a good practice. You can offer quizzes, certifications, tickets to attend conferences or tradeshows, among others.
Key recommendations:
· Don't focus on conventional training: Is not usually attractive training where partners only listen to information for an hour. Investigate the most original and based on participation types of training to motivate your partners.
· Ask what they want to learn about: Maybe you are focusing on topics that they already know or are not interested in. That's why we recommend asking what they prefer in order to make the learning enriching.
Activity-based incentives
Like Co-ops or MDFs, reward partners according to the activities they manage.
Key recommendations:
· Don't reward equally with all activities: It's essential to reward according to the activity importance. The more difficult the activity is, the more important the reward will be.
· Develop a activity-based incentives with specific tasks: You can develop a list with the activities that should be rewarded.
Partners with lower engagement don't have high expectations with incentives.
Activity-based incentives are a good option for them.
4. Channel loyalty program software platforms
CR Worldwide is a complete platform that includes channel programs, employee recognition, sales incentives, customers loyalty, online learning, amongst others. It helps you engage with your channel partners and allows building an easy-to-use platform to have a better organization. They also have available several resources to help companies to make loyalty programs.
Apex loyalty also provides tools to interact with partners and engage them, allowing program segmentation and incentive and communications customization.
LoyaltyXpert is a comprehensive software, as you can develop customer loyalty programs, influencer loyalty programs and channel loyalty programs. It offers Loyalty programs for specific industries such as eCommerce, FMCG, Education, Automotive, Electrical, Paint, Employee and NBFC loyalty programs.
Channeltivity deal registration, requests, channel management, training and co-branded activities. It allows connections with HubSpot CRM and Salesforce.
Allbound is a channel collaboration platform that allows real-time access to sales enablement, marketing tools and resources.
Impartner is a SaaS PRM that integrates with CRM systems.
LogicBay combines a channel technology stack with a proprietary channel profit centre methodology.
Magentrix provides channel loyalty programs portals.
Zinfy allows partner relationship management, partner marketing management and partner sales management.
Elioplus offers a complete platform with lead distribution, deal registration, partner directory, onboarding and library services.
This platform helps to develop an incentive structure, and it also allows to create an emotional conection with your partners through experiences. In addition, it also includes coupons/QR codes, gamification and social media integration.
Capillary offers a customised software to create stronger relationships with partners.It also provides analytics to help the sales team to grow the revenue.
Finally, RunRunPromos, our own platform, allows building B2B & B2C promotions, but also channel loyalty programs. You can create a customized site, make real-time changes, get real-time metrics, have an incentive panel and communicate via customized automatic emails. All this in 20 different languages.
5. [Checklist] Steps to launch a channel loyalty program
As a recap of this guide:
Think about MDF and Co-op funds as the first layer.
Make sure you understand the difference between MDF and Co-Op funds.
Define a clear goal for your channel loyalty program.
Define and offer the incentives that best fit your business and goals.
Think if you need software and choose which one you prefer.
Plan with the right level fo detail the launch of your channel loyalty program.
Build from there, integrate the right evolutions based on your channel partners' feedback
Finally, in order to build a complete Channel loyalty program, you can download now for free our checklist! If you have any question, don't hesitate to contact us!