The B2B and Consumer promotions definitive guide 2023
This is the 2023 definitive guide to B2B & Consumer promotions: the tips & tricks we have learnt at Gotoclient from 150+ promotions for both B2B and B2C companies in the last ten years. tips & tricks from 10 years of experience
If you're working at an advanced level and need a comprehensive guide to help you get great results in your promotional campaigns, keep reading! If you're looking for something that is more entry level, you can read this guide from Cleverism and this one from Keep.
Promotions can generate demand and increase customer satisfaction. As a result of the pandemic and inflation, according to McKinsey, +40% of Italian consumers are more sensitive to price, and 31% of French consumers try to spend less money on unnecessary purchases. In addition, Deloitte shows that 27% of US consumers were worried about making future payments, and 43% were postponing their purchases. In Spain 45% / 42%, Italy 38% / 50%, France 23% / 49%, UK 21% / 39% and Germany 22% / 33%. Promotions are more important than ever to add value for consumers and B2B clients. 
Why this guide?
Find useful information and resources for your promotions.
Launch effective B2B & consumer promotions.
What to expect from the guide?
· Useful information on B2B & B2C promotions.
· Essential tips & tricks and key recommendations on promotions and how to get the best results.
· Free templates & resources for promotions.
1. Top B2B promotions 

B2B purchases usually require a longer process and are typically based on metrics, and, in certain cases, brand trust. Some B2B decisions may need approval from several departments and commitment from multiple stakeholders. Promotions can help speed up the B2B decision making process.
Here are the most common B2B promotions:
Trade-in or trade-up plans
This is where companies receive an incentive to return the products they are currently using and replace them with brand new promoted products. You will normally off a discount for this.
Key recommendations
· Implement trade-ins for high-cost products: This type of promotion is commonly more attractive and useful for high-cost items.
· Be clear on the mechanics
· Understand legal implications
· Have a crystal-clear communication
In June 2019, we launched a trade-in program for Epson Italy. They wanted to get resellers to buy their B2B Inkjet solutions.
To achieve the objective, we built an incentive program for resellers to hand-in their current printers and buy the Inkjet with an added incentive. See the promotion on this link.
When we think about cashback, the first thing that probably comes to mind is B2C cashback. But this is also good in a B2B context. Here, the main difference is that B2B cashback is more focused on SaaS and products. This is a great way to increase revenue and sales. The more companies buy, the greater they will be rewarded. Here, if you work with distributors to sell your promoted products, it's a good idea to include them in the promotional campaign terms and conditions.
Key recommendations
· Add a time limit to claim your cashback: It's a good idea to add a sense of urgency to the buyer of your product / Saas.
· Develop a key message to accompany your goals: More and more B2B businesses are developing this strategy. So, to stand out from the competition, build a strong message that fits with your campaign. The more focused the message is, the better results you will see.
· Think about a communication plan: You need to get your promotion out there. Email, social networks, and paid ads are useful tools here. Offline communication such as wobblers or flyers can also be useful for your retailers.
Channel loyalty program
Channel loyalty programs are aimed at companies who need to increase sales or retailer engagement. The incentive here doesn't always have to be money. You can also give gifts or coupons, for example.
For more info on channel loyalty programs, check out our definitive guide.
Key recommendations
· Set a realistic incentive: It's essential to provide an attractive and useful incentive, but you must be realistic about how much you can offer. Make sure you properly budget for the incentives you are going to give away.
· Consider offering training: Training is a good investment for both parties; your partners learn about your product, and they will probably improve their sales!
· Develop an effective communication strategy: It's important to build a communication plan to determine when and what you are going to tell your partners. Be direct and constant – this will help you build a better relationship with them.
Channel loyalty program example
We created a channel program for Fujifilm, a world-famous photography company. They wanted to increase sales and improve engagement with their partners. We helped them develop and launch a channel loyalty program where distributors and retailers could register their purchases and receive points that could be redeemed for gifts.
To see the promotional website, go to this link.
Try & Buy
Customers can receive free products to try before they buy. This is a good way to showcase your product and its benefits. Be careful with this strategy, as costs can be high.
It's a good idea to offer products related to what your customers have purchased previously. If you sell office products for example, it might be good to offer a lamp.
Key recommendations
· Make sure your try & buy promotion offers genuine value: Consider how your campaign can increase revenue and value. Answer this question: What can we provide for free to tempt customers to buy from us, that is a low cost to our company?
· Start with simple products: If you've never offered anything like this before, accessories are a great starting point.
· Include high-rated products: To prevent returns that you cannot sell afterwards, use products with higher ratings.
Think hard about the needs of your target audience before deciding on a promotion.
Netgear, a multinational computer networking company,asked us to create a promotion to increase NAS penetration within distributors and retailers. As a solution, we launched a Try & Buy campaign combined with a sweepstakes promotion.
2. Top consumer promotions
B2C purchases tend to be emotionally driven. Consumers can be swayed by:
· A closer relationship with the brand.
· A campaign message that resonates with a consumers' thoughts and feelings.
· Users find the product attractive, and it meets their needs.
That's why, in this case, you should not only focus on what you're going to promote. You must also invest time in creating a compelling naming strategy to make your target audience feel connected. Finally, if you want to know how to avoid the most common mistakes with online promotions, we recommend reading this post.
B2C cashback
Final consumer cashback works in the same way as in B2B. However, as B2C users act differently, the promotion must also be focused on their needs.
Key recommendations
· Accompany your offer with a strong message: According to McKinsey, 59 million jobs are at risk in Europe. This makes price a key factor. Cashback helps to reduce the expenditure.
· Work on psychological prices: You need to set a strategic cashback. A good practice is to offer round numbers, like €50, €100 etc.
· Use cashback instead of price cuts: With this promotion, you don't need to reduce prices. In addition, cashback works better than discounts.
Netatmo, a smart home devices company, wanted to encourage people to buy their products from the selected Point of Sales. We delivered 3 cashback promotions in Spain over a period of 6 months, where 7 retailers participated.
With deferred bundles, consumers buy a promoted product and immediately receive a specific gift, coupons etc. Users are told if they meet the requirements and follow the promotion's terms and conditions, they will receive the incentive.
Key recommendations
· Offer an incentive aligned with your values and goals: Users must feel a connection with your promotion and the gift they will receive. Search for the incentive that best fits your promotion.
· Opt for giving a new product or service: If you recently launched a new product or service, you can offer it as a gift in order to get it out there.
· Consider using products from the same brand again: If you have a successful partnership, think about doing it again with another product from the same brand.
Deferred bundle
In this case, with deferred bundles, consumers buy a promoted product, and they obtain a specific gift, coupons, etc. immediately. Users know if they meet the requirements and follow the promotion's terms and conditions, they will receive the incentive.
Key recommendations
· Offer an incentive aligned to your values and goals: Users must feel identified with your promotion and the gift they will receive. Search for the incentive that best fits your promotion.
· Consider creating future strategies with the brand you will work: If you decide to offer a company's gift and it works, you can think about repeating another collaboration.
· Opt for giving a new product or service: If you recently launched a new product or service, you can give it as a gift to make it known.
TomTom needed to increase sales of its sat nav devices. We helped them deliver a deferred bundle promotion. We offered consumers a free Fujifilm Instax Mini 9 camera for each TomTom device purchase. See the promotional website on this link.
Instant win
Consumers make their purchase, and know immediately if they are a winner.
Key recommendations
· Create an omnichannel campaign: To get the widest possible participation, we recommend developing an omnichannel campaign. This gives customers an integrated experience from beginning to end.
· Provide an optimal User Experience: It's important to offer an effective user experience to your target audience, because you need them to feel a connection with the promoted product.
· Think about offering discounts or coupons to users who have participated: You can also give discounts or coupons to those consumers who participated but didn't win. Consequently, they will remain interested in your brand.
Esselte, an office solutions company, wanted to increase sales of staplers across Spain. We developed and launched an instant win campaign where users had to buy one of the promotional products for a chance to win a suitcase. 
The number of winners was limited to 10 per month, and people would only know if they had been successful once they redeemed their code.
Raffles
This type of promotion is mainly used to increase brand awareness and engagement. Companies usually use their website to promote their raffles.
Key recommendations
· Raffle a valuable product or service: You must give users a reason to participate. It has to be an attractive and high-end product or service. Also, it should be an item that users would not normally buy.
· Set the campaign terms according to your goals: Be careful not to introduce too many conditions, otherwise your entry rate will drop.
· Add an "accept communications" option: If entrants agree to this, you will be able to keep in touch with them.
· Don't forget about legal issues: There are some legal implications you should take into account. There is more on this in section 3.
In 2017 we worked with Logitech. We launched a raffle to increase sales. We offered an exclusive trip to the Hilton Abu Dhabi.
Once you have established a winner, you can also offer a special discount for those who participated.
Bundles
The main goal is to create a bundle of two or more products / services and add a discount. This is a great way to induce customers to buy in bulk.
Key recommendations
· Add value: We recommend including products that adds value to the main product. For example, if your company is a cosmetic, add tools to a product to give a better experience.
· Pick products or services your target audience wouldn't intend to buy: By doing this, consumers will try them for the first time. This way, they can consider this new products or services in future purchases.
· Make tests: You can test your bundles campaigns by creating different packs of gifts and see which obtains better results.
Pioneer, the world-renowned audio manufacturer,wanted to increase its presence in the home HiFi sector. We suggested they marketed a bundle with high-value cross offers for their consumers. The campaign was called Te lo mereces (You deserve it). If users bought a music system, they also received a free set of headphones.
This campaign was launched in 2012 for 4 months in Spain.
Trade-in plans
Trade-in plans are used to exchange old products for new ones. Companies add a discount or reimburse a percentage of the purchase. 
Key recommendations
· Implement this strategy when launching new products: Whenconsumers need new products, they often don't think to look for new versions of existing ones. This type of promotion is great to raise awareness of a better solution you might be offering for an existing problem.
In 2011, TomTom used Gotoclient for a major campaign to increase sales. As a result, we developed a trade-in plan for 17 markets around the world.
Consumers who bought the promoted product and traded in their older ones would receive up to €100.
Contests
Potential customers are given the opportunity to test their skills with the incentive of winning a prize / discount.
Key recommendations
· Create contests that have a low bar of entry: Don't be too complicated, as users might be deterred from participating. Text, music or photo contests are easily accessible.
· Develop contests that properly align with your company: Your contests need to align with your company values. Thus, it will be more memorable and will help to build a strong relationship with your customers.
· Offer additional incentives to all participants: As a thank you message for participating, you can give a small incentive to those who have participated.
In 2014, we built a contest for Pioneer where users had to race cars to win Pioneer's multimedia car audio products.
Referrals
Usually, customers trust the opinion of other customers like them. This strategy is very useful to expand your customer portfolio. You need to encourage your current clients to refer their personal network to your company.
Key recommendations
· Send emails to your best customers: Write a message to the clients who really trust your brand. If your email is customised and well-targeted, they will be happy to help.
· Add a discount for their next purchase or offer them an incentive: Also, to ensure your campaign achieves its goals, offer them a special incentive.
· Think about the legal aspect: When your customers want to recommend your company to their friends, they might need to share their friends' personal data but won't have their permission. To make this activity legal, you need to send an email explaining why you have their details and also give them the option to unsubscribe.
We worked for Vileda in 2017 to launch their referral campaign. They wanted to increase exposure for their Windomatic product. So, we offered users €20 if they recommended this product to a friend.
Quizzes
A quiz is a great way to engage your audience.
Key recommendations
· Use topics that are of interest to your target audience: If you want to get user information, you must offer a quiz that's interesting to people. For example, if your target audience is mainly teenagers, personality tests will be a good option.
· Provide a cross-offer: When devising the quiz, you can consider adding cashback or a discount for their next purchase. This will add great value to your campaign.
· Use this information for future marketing strategies: The information you collect can be very valuable for other strategies. You may find new customer pain points and needs. That's why you must think long and hard about the questions you ask.
Warby Parker, an online glasses and sunglasses retailer, launched a quiz to enable users to try five pairs of glasses for five days. They asked questions about colour, shape and fit to help give customers the perfect glasses type.
Having discussed all B2B and B2C promotions, let's see which ones offer a direct or indirect incentive: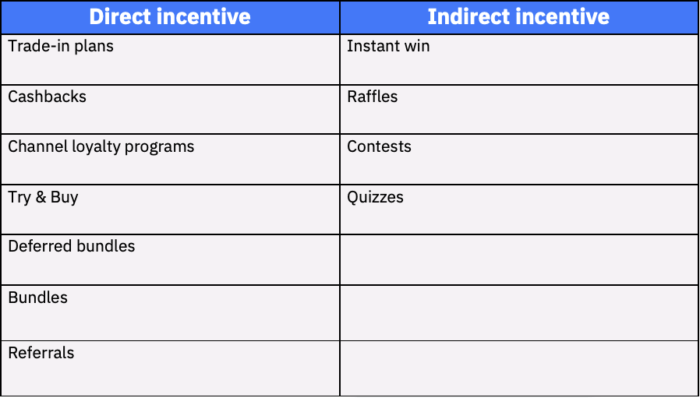 3. Key legal aspects to tackle before launching a promotion
Before launching a B2B or consumer promotion campaign, you must consider a few key legal aspects. So, let's take a look!
General rules:
· T&Cs are always mandatory.
· In some countries, a notary service is required.
· Establish contact points with users.
B2B promotions
· When cash or any other incentive is offered, companies must account for this in their balance sheets. So, an accounting document such as a negative invoice or credit note is typically required.
· Try & Buy: You need to develop a legally binding document to define the length of time the offer would be valid.
· Determine exactly who will receive the incentive: Will the incentive be given to the organisation, or a particular employee of the organisation? This a particularly important consideration when dealing with small companies.
Consumer promotions
· B2C promotions work differently in each European country. For promotions running in Italy, read this post where we explain the key legal considerations.
· Raffles: Raffles work in the same way as lotteries, so you will sometimes have to pay taxes. For example, in Spain, you must pay tax depending on the total incentive value, ranging from 11% to 12%.
4. The process of creating a promotion
Launching a promotional campaign requires a number of steps. When developing a promotion, you must make sure your promotional message resonates with the needs and goals of your audience. Users must understand exactly what it is you're communicating.
This is what you need to do to build and launch an effective campaign:
1. Set your goals
Any marketing campaign should begin with a specific goal, so, it's essential to determine yours. For example, sales promotions can be focused on a new product launch to boost sales with current customers, or to increase brand awareness.
Once you have defined your goals, choose the promotion that best fits them.
2. Define your target audience and buyer persona
B2B or B2C promotions must have a specific target audience. In fact, the more precise your target audience is, the more effective your promotional campaign will be.
If you are targeting more than one audience group, you must define them precisely.
On the other hand, we also recommend developing buyer personas. This strategy can give you more specific information about your audience including their needs, pain points, goals, background, among others. You can build one buyer persona per target audience group. This makes it easier to define the right strategy. If you need more information about how to create a Buyer Persona, we recommend you to read our inbound marketing guide.
To define your target audience as accurately as possible, you can build B2B and B2C Buyer Personas.
3. Build a redemption table
The redemption table is used to estimate the revenue you're going to raise from the promotional campaign. To calculate this, you need to take the following steps:
· Indicate the total volume sales: The number of units you estimate to sell in one month.
· Set the incentive value: The total cost of each incentive
· Specify the Average Street Price or Average Selling Price to the end-user (ASP): The initial product sales price. Here, you have to exclude VAT, which varies in each country.
· Perceived price: This value is calculated by subtracting the ASP by the incentive value. The formula is as follows:
Perceived price = ASP – Incentive value
· Incentive value %: This represents the percentage of the product's incentive value over its total price. It's calculated by dividing the incentive value by the ASP and multiply the result by 100, as indicated below:
Incentive value % = (Incentive value / ASP) * 100
· Determine the ASP Total Value: Here, you have to multiply the total volume sales by the ASP, as it follows:
ASP Value = Total volume sales * ASP
· Estimate % Redemption: This indicates the percentage of sold products you're going to get with the campaign.
· Calculate the total redeemed units: You need to multiply the % redemption by the total volume sales.
Redeemed units = redemption % * Total volume sales
· Evaluate the total cash: Multiply the redeemed units by the incentive value.
Total cash = Redeemed units * incentive value
· Take the retailer margin and calculate their absolute margin:
Retailer margin = Retailer margin * ASP
· Indicate the retailer buying price: subtract the perceived price by the retailer ABS margin, as per below.
Retailer buying price = Perceived price – Retailer ABS margin
· Estimate the revenue: multiply the retailer buying price by the total sales volume.
Estimated revenue = Retailer buying price * Total sales volume
· Calculate the net revenue: When estimating the revenue, you also have to subtract the incentive total cost. The formula is:
Net revenue = Revenue – Total cash
· ROI: Finally, to know the Return of Investment, you need to divide the estimated revenue by the total cash.
ROI = Estimated revenue / total cash
If you prefer a more simple way of estimating the revenue of your campaign, you can download our free template.
4. Set the promotion budget
You must know what your brand is going to invest in the campaign. This involves developing cost breakdowns to determine the following:
· Percentage of sales: This comes from the redemption table.
· IT: As you are probably going to build a promotional website, you will need to hire IT services.
· Legal: You must have Terms and Conditions for each promotion. So, you will need to enlist legal expertise to ensure everything is in order.
· Software expenses
Once you have this information, you can judge if it makes sense to launch the campaign.
5. Build the Unique Seller Proposition
The Unique Seller Proposition is the main benefit your company has that sets it apart from the competition. That's why you need to put in the time to answer this question thoroughly: What really makes you different? Why would your customers prefer your brand ahead of others?
In addition, the USP needs to demonstrate to your target audience that your promotion will fulfil their needs.
Build the perfect USP for your campaign with team-brainstorming sessions. Five minds work better than one.
6. Choose the product or service to promote
Once you have gathered the information mentioned above, it will be easier to select the products or services to include in a promotion.
7. Write down the Terms and Conditions
It's essential to outline what users need to do to receive the incentive. Here, you should include the following:
· The promoter's name and address.
· The promotional period and products or services to beincluded.
· The gift and how many gifts you are going to provide.
· Retailers where users can buy the promoted product or service.
· The time buyers have to register their purchase.
· Possible restrictions on the number of participants.
· How and when winners will be notified.
· Any copyright conditions.
· The time your company has to deliver the incentive.
· Possible restrictions or limitations.
For more information on legalities, see section 3.
8. Build a promotional website or webpage
Choose between creating a site dedicated entirely to the promotion or adding a new section to an existing website. In addition, you must indicate how many more entrants are allowed before the end of the promotion.
Having decided this, these are the next steps:
· Consumers take the action you were planning for (typically buying your product).
· Then, they go to the promotional website to fill out the form with the required information.
· You accept or reject the participants.
· Finally, they will receive the incentive.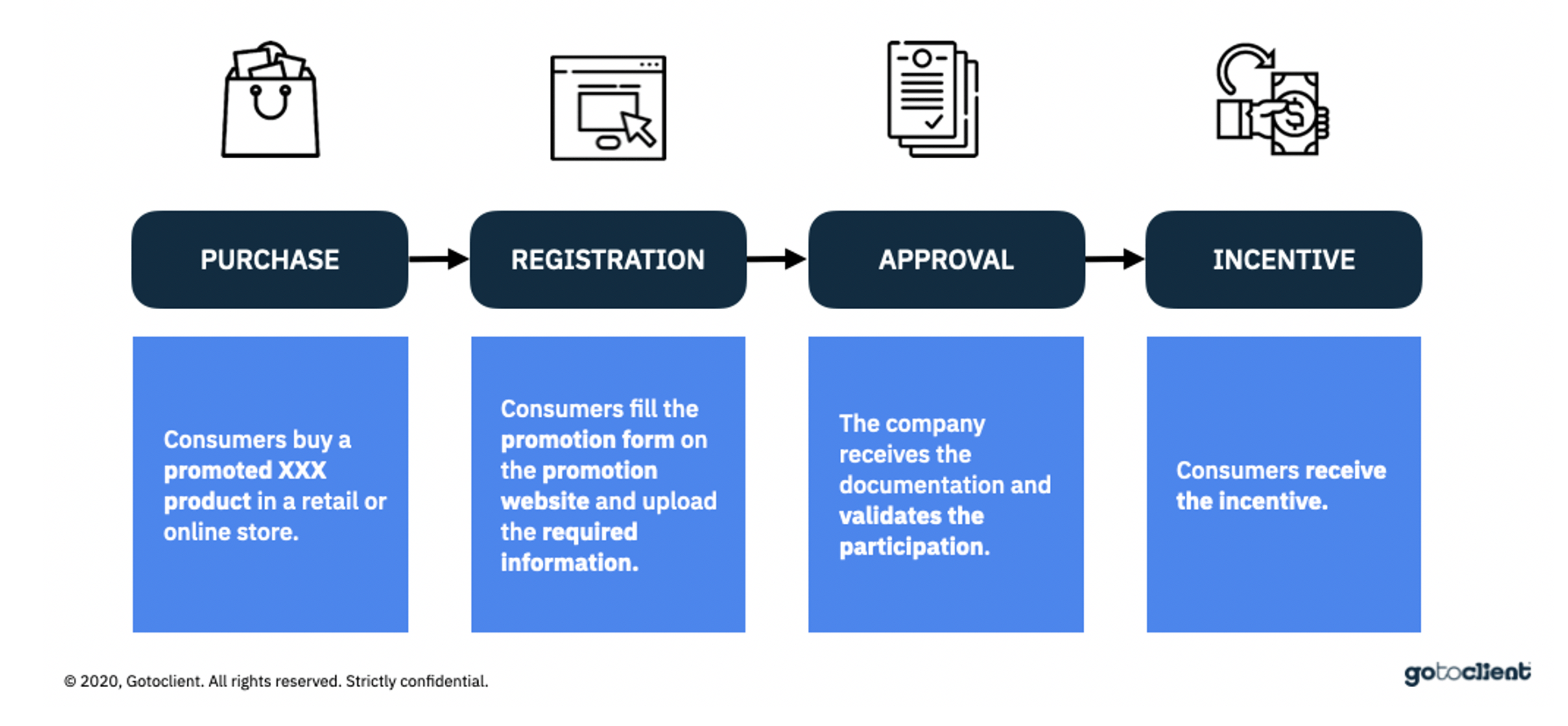 9. Use specialist software to manage your promotion
In order to manage the promotion efficiently, you need a specialist platform. As a result, it will be easier to filter entrants and control the campaign.
Many platforms can help you with the management of B2B & Consumer promotions. We can recommend our complete RunRunPromos software, which we talk about in section 5.
10. Develop a communication plan
In order to get your B2B or consumer promotion out there, you need to set a communication plan. First, you need to know how to reach your target audience. You can include offline and online communication elements:
· Offline (Point of Sale): If you are going to partner with retailers, you can give them wobblers, flyers and A4 posters to be distributed in their shops. Always consider the Time to store: the time it will take for distribution.
· Online: You can also consider sending emails to your current customers, banners, social media posts and paid ads. It's a good idea to include banners on websites of your partners and yours.
Now let's discuss the 5Ps of promotion:
· Process: How many hurdles do users need to clear in order to participate? What else do they need to do afterwards?
· Product: Which product or service are you going to provide? Will you focus on a new one? Or do you want to increase the sales of an existing one?
· Platform: Where are you going to build the promotion? Are you going to build a new site exclusively for the promotion?
· People: Who is the promotion for? Is there more than one target audience?
· Positioning: How do you want to be identified in relation to the promotion?
If you need help with your online promotion, we offer a free 1:1 consultation to help you build your optimal strategy.
5. How to track the promotion results
Here are some tips & tricks for tracking your promotion:
· Note the total number of participants: Add the total number of participants and compare the results with the redemption table. Compare this to your previous estimations.
· Note your communication plan results:

– Offline (Point of Sale): To judge the success of your offline communication, you can add a question on the form to track how your participants came to hear about your promotion.

– Online: Take all activity data (emailing, social networks, paid ads etc.) and record the impressions, clicks and conversions that came via the landing pages. In addition, if you have already done another B2B or B2C promotional campaign, compare the results to see which worked better.
Tracking will help you identify gaps and optimise future campaigns.
· Add all your campaign costs: In the previous section, we mentioned you need to provide an estimate for your campaign expenses. Now you must know precisely how much your company has invested. Compare these costs with other promotional campaigns you have done to understand if you are getting value for money.
· Calculate your ROI (Return on Investment): Subtract your sales promotion total cost from your profits. Then, divide it by your expenses to finally multiply it by 100 to get the percentage. The formula is as follows:
ROI (Return on Investment) = ((Profits – Investment) / Investment) * 100
If you get a positive ROI, then, your campaign has been profitable.
To estimate and calculate your B2B or consumer promotion, you can download our free template. This will help you before and after the promotion launch.
6. Our software RunRunPromos
When developing B2B or consumer promotions, you need to find the right platform to manage them. Specialist software makes it easier to manage the participants, and distribute the incentives /prizes. You can utilise multiple promotion types…there are more than 100! Find out more in this post.
Our specialist RunRunPromos Software offers the following:
· Landing page builder: You can create a customisable landing page to provide the optimal user experience. You can customise your form to include fields such as: date, number, bank account number, phone number, and there is the option to batch upload.
· Data reporting: To find out if your campaign is working effectively, you can see real-time web analytics, graphics and metrics.
· Email campaigns: It's easy to send eye-catching, personalised emails without the need for a graphic designer. You can save time by pre-scheduling them.
· More than 100 promotion combinations: There're more than 100 available promo combinations. Combine your preferred promo type with you incentive and customise the way it is distributed.
· Multiple mechanics and incentives to choose from: You can select from many mechanics, which are: text, video or music contests, trivia, polls, buying promos, Trade-in promos, 2-step promos, trials, quizzes, referrals and loyalty. In addition, your incentives can be: limited or unlimited coupons, gifts and cash.
· Integration with other sites or Facebook: Integrate your website, landing page or your Facebook corporate page.
· 20 languages: The landing page can be in English, Spain, Catalan, French, German, Italian, Czech, Danish, Dutch, Greek, Finish, Hebrew, Flemish, Norwegian, Polish, Portuguese, Russian, Slovak, Slovenian and Turkish.
· 100% responsive: The software automatically creates 100% responsive landing pages.
If you would like to know more about launching your promotional campaign in RunRunPromos, don't hesitate to contact us!
7. [Checklist] Steps to create and launch promotional campaigns
To increase sales and awareness for any company, B2B and consumer promotions are vital. We hope we have given you the tools to smash your next promotion out of the park!
To conclude, we'll recap the most important points of the guide:
· Understand the best promotions for B2B and B2C.
· Follow the process of creating a promotion to the letter. You cannot choose your promotion until you have defined your goals and target audience.
· Use a specialist platform to build and manage the promotion.
· Analyse each campaign to check it has worked. The learnings from this are vital for your next campaign.
· Take care of your partners.
To create and launch the ultimate sales promotion, download our free checklist! And if you have any questions or would like to work with us on a promotions campaign, do not hesitate to get in touch.
---