The LinkedIn Ads definitive guide
Here's all that we learned from running LinkedIn Ads campaigns for several big brands with significant investments. So, here's the LinkedIn Ads definitive guide written by our LinkedIn Ads consultants.
This guide is intended for online marketing professionals who need useful information to launch performant LinkedIn campaigns and for managers who need to make decisions on whether to launch or not LinkedIn Ads campaigns. This is not an introductory guide. There are excellent introduction guides over there, such as the Hootsuite guide, which is a step-by-step LinkedIn Ads guide and the Hubspot guide.
Why this guide?
Decide on launching a LinkedIn Ads campaign or not.
Find useful information on how to manage and launch LinkedIn Ads campaign
LinkedIn is the biggest B2B lead generation platform for professionals and companies. Currently, it has more than 675 million users and increasing. Unlike other social networks, where users spend their time, people invest time on LinkedIn. According to Business Insider, LinkedIn is the most trusted platform in 2017, 2018 and 2019.
According to LinkedIn, marketing and sales experts say LinkedIn is the number one social network for B2B lead generation. Also, users make business decisions based on the LinkedIn conversation.
Here's what to expect from this guide:
· High-quality information on LinkedIn Ads.
· Essential tips and tricks to build performant LinkedIn Ads campaigns.
· Free templates to help you with your campaigns.
---
1. Does a LinkedIn Ads Campaign make sense for my business?
The first task is to understand if launching a LinkedIn campaign makes sense for your business. It's critical to understand that not all companies, solutions or product meet the requirements to launch a campaign on LinkedIn. That requires a higher CPC (cost-per-click) investment than platforms such as Google Ads o Facebook Ads, so let's make sure your LinkedIn Ads ROI is positive. Let us just mention that LinkedIn presents a higher CPC than other platforms, but when you go down the funnel and analyse the CPL (cost-per-lead), it tends to be more competitive than those, being the conversions higher.
1. B2B company
Firstly, you must represent a B2B company with a B2B proposition. LinkedIn is a B2B platform with a massive base of professionals from multiple markets. If you work for a B2C company (unless you have B2B2C needs), we suggest you stop reading and use B2C focused platforms.
2. Continuous need to generate leads
You must need to get leads on an ongoing basis. Let's say you operate in a market where you can only have six clients around the world. You would then not need LinkedIn Ads campaigns – you might be using LinkedIn for Account-Based Marketing (ABM) campaigns, but not for lead generation goals -. Your lead generation needs must be continuous.
Regarding with B2B lead generation, you can read this pillar page made by Funnelbud related to how to get B2B qualified leads with your software, and some useful key recommendations and tips.
3. Your client's value is higher than 4.000 euros per year
LinkedIn is an expensive platform. Therefore, yourclient's value must be higher than 4.000 euros per year.
If your client's value is lower, it is advisable not to carry out a lead generation campaign, as it will be hard for you to get a positive ROI. The 4.000 euros threshold will allow handling the right CPL (cost per leads) and CPA (cost per acquisition)
4. Your Ideal Customer Profile (ICP) and Buyer Persona Profile
It's essential to have a clear picture of your Ideal Customer Profile (ICP) and Buyer Persona Profile. One of LinkedIn's biggest strengths is their targeting capacity, with many segmentation criteria, such as country, company industry, company name, company size, job function, job title, job seniority, amongst others.
5. Your client is an active LinkedIn user
Your customer must also be an active LinkedIn user and a LinkedIn savvy person. Let's say you sell to young mid-schoolteachers. You might have some prospects on LinkedIn, but the odds are that those are not very active. If you can't find active users, your ads won't show, or, worse; they will be delivered to wrong audiences.
6. The right audience size for LinkedIn Ads campaigns
Your audience has to be higher than 40.000 members and ideally lower than 400.000 members. Lower audiences typically would result in poor campaigns and higher audiences in low lead quality.
LinkedIn Ads campaigns requirements:
B2B solution / ongoing lead needs / client value of more than 4.000 euros per year /
clear Buyer Persona and Ideal Customer Profile / Clients active on LinkedIn /
Audience higher than 40.000 members
---
2. LinkedIn Ads campaigns goals
Before developing a LinkedIn Ads campaign, let's think about your business' goals. It is necessary to invest time in analysing how are you going to focus your campaign. So, it's essential to specify your goals as much as possible to run an effective campaign. Business goals fall under the following categories:
Increase brand awareness.
Increase product, service or solution awareness
Raise web traffic
Raise the number of potential clients (i.e. generate leads)
When you start building a LinkedIn Ads campaign, the first thing you'll need to choose is the goal.
Picking the right type of campaign depends on how it matches your goal. LinkedIn offers solutions for each buyer journey stage, from brand awareness to conversion. However, LinkedIn only allows you to choose one objective, so if you have more than one, you need to create one campaign per goal.
1. Brand awareness
Brand awareness goal is intended for The Top of the Funnel (TOFU) campaigns. For example, this goal is the best option if your company wants to be recognised by the target audience.
Through brand awareness, you can use many of LinkedIn's solutions, such as build Single Image Ad, Carousel image ad, etc. However, based on our experience, we must say not all LinkedIn Ads formats work for this type of campaign. Carousel image ads and conversation ads perform better for decision campaigns. So, you can build brand awareness campaigns through single image ad, video ad, text ad, spotlight ad and follower ad.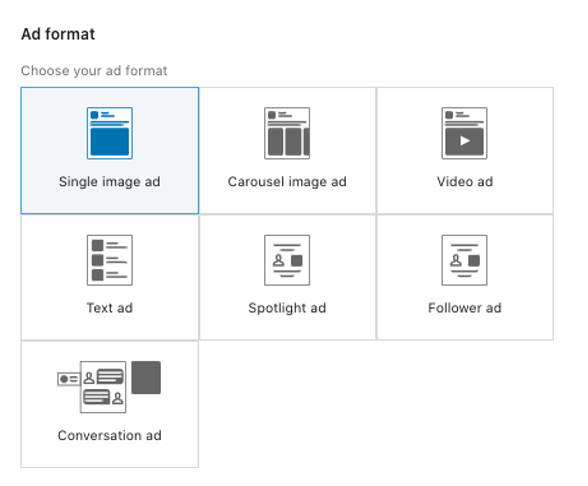 2. Consideration
LinkedIn also allows companies building campaigns to encourage users to take action. These activities can be:
· Website visits: If your team wants to get higher clicks on your website, you must select this goal. About ad formats, it happens the same as brand awareness campaigns. However, for increasing website visits, we suggest using single image ads, video ads and text ads.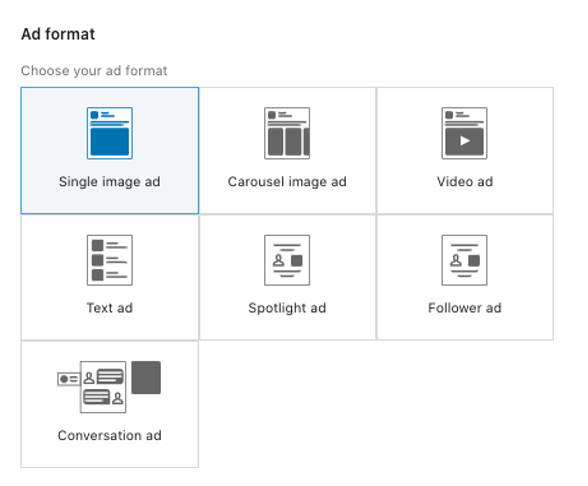 · Engagement: You can also increase post engagement, such as clicks, recommendations, comments, sharing, among others, or adding new followers to the company LinkedIn page. In this case, LinkedIn's allows fewer solutions compared to brand awareness and website's visits campaigns. Nevertheless, our recommendation is to build engagement campaigns through single image ads, video ads, follower ads and conversation ads. We don't suggest carousel image ads as it's typically used to offer a large number of services or to explain a complex product or service deeply.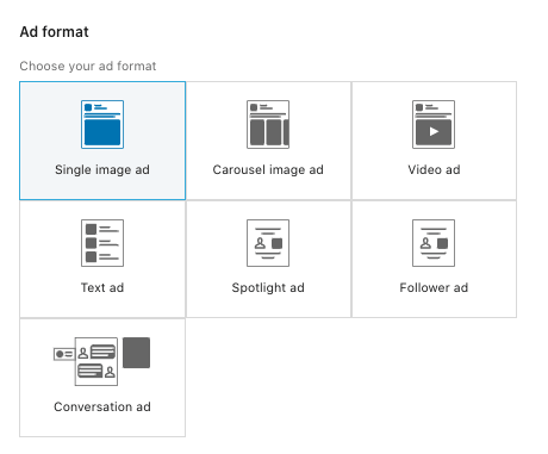 · Video views: Finally, LinkedIn gives you the alternative to bid at a cost per view. However, to build video views campaign, it is obvious you must select the video ad format.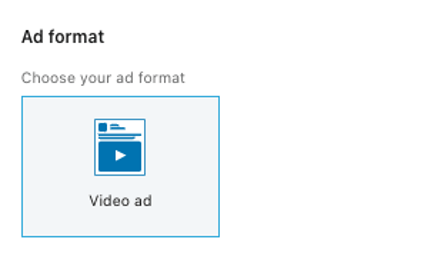 3. Conversion
Conversion campaigns focus on lead generation and website conversions, such as document downloads or leading capture. In this group, we find:
· Lead generation: This option is one of the most effective ways to get qualified leads to an increase in potential customers. For lead generation campaigns, we suggest using all ad formats LinkedIn allows, except the video ad, which is best suited for brand awareness and consideration campaigns.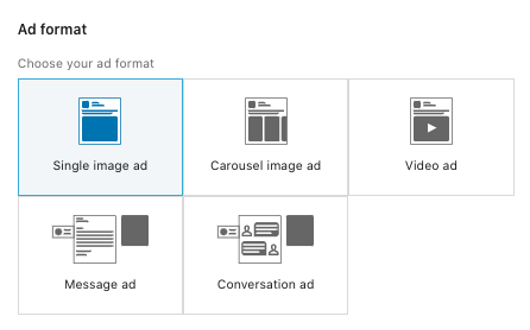 Never forget about the real conversion, which happens once you get the lead data.
Interact with every prospect within 4 hours after they fill the form.
· Website conversion: Users are encouraged to take action on the website, for example downloading eBooks, filling out lead generation forms or signing up for events. In this case, we suggest using a single image ad, carousel image ad, message ad and conversation ad. The other formats are more focused on brand awareness and consideration campaigns.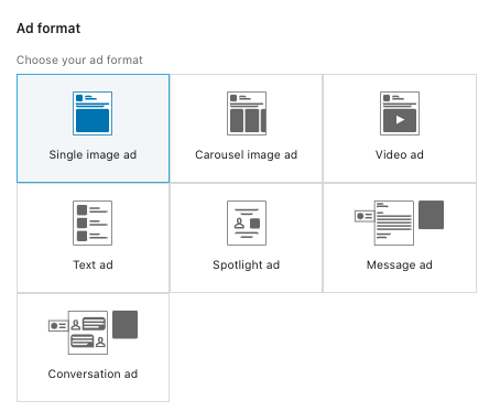 · Job applicants: Lastly, LinkedIn allows the possibility to publicise the company's job offers. In this sense, jobs ads and single job ad are the optimal options to build this kind of campaign.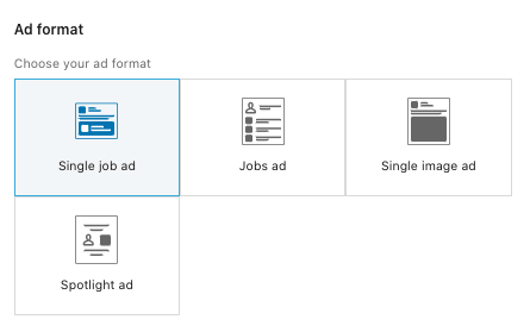 4. Your Ideal Customer Profile (ICP) and Buyer Persona Profile
It's essential to have a clear picture of your Ideal Customer Profile (ICP) and Buyer Persona Profile. One of LinkedIn's biggest strengths is their targeting capacity, with many segmentation criteria, such as country, company industry, company name, company size, job function, job title, job seniority, amongst others.
It is essential to have a clear goal for your campaign and to understand which formats you will choose.
---
3. Target audience segmentation tool
LinkedIn Ads is recognized by its segmentation tool, one of the most detailed audiences' segmentation social ads tools. It allows to impact the target audience efficiently and get qualified leads.
Let's see what the segmentation options are:
Company
· Company name.
· Company industry: market or industries where companies are operating.
· Company size: Based on the employee number listed on the company page.
· Company followers: Based on the follower number the companies have.
· Company connections: First-degree connection of employees.
Demographics
· Member age.
· Member gender.
Education
· Field of study.
· Degrees.
· Member schools.
Job experience
· Job title: Information related to the job title introduced by the member.
· Job seniority: It describes the level of responsibility and experience of the employee. This option is determined by the members' job title. According to the job title that users indicate in their LinkedIn profiles, LinkedIn will relate them to a specific seniority. For example, if a user introduces Marketing Manager as a job title, he / she will have a seniority of Manager.
· Job function: Department where the member works. This option is not compatible with job seniority and job title options.
· Years of experience: Years of professional experience.
· Member skills: This option allows you to specify specific skills or abilities you want your target audience to have. Those skills appear in the "member skills and validations" section.
Interests
· Member groups: Specific LinkedIn's groups your target audience member has joined.
· Member's interests: Option based on the user's interests indicated in their profile. LinkedIn is from Microsoft, so interests are taken through Bing searches.
· Member's traits: Based on their distinguishing characteristics of the types of device members usually use when spending time on LinkedIn.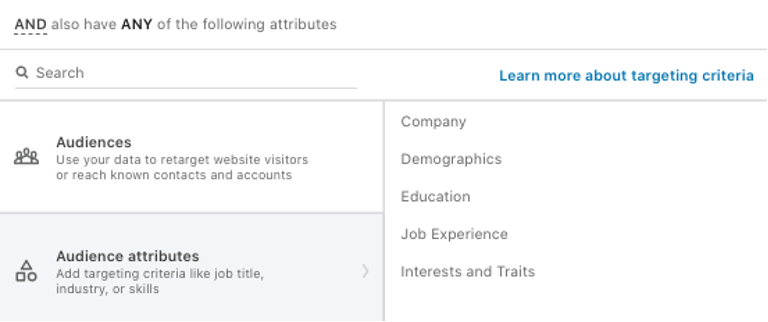 3.1. Target audience segmentation tool: Tips and tricks
To impact the right users, it's essential to analyse the target audience as well as knowing how to introduce the target attributes on the LinkedIn Ads segmentation tool. That's why we're going to give your team some essential tips & tricks:
· Company:
· Add company names for awareness and retention campaigns: If your goal is awareness or retention, using Company Name option is a key recommendation in order to reach high-value companies and impact decision-makers. LinkedIn allows to target up to 200 different companies within audience attributes.
· Target by company industry and size: The most used criteria and the ones you should always use, as they contain necessary information both to know and indicate. On the one hand, it's key to select industries your team wants to impact because you should always verticalize the campaign. On the other hand, those two criteria are essential to good Ideal Customer Profiles.
· Analyse the company industry of your target: Before choosing Industry, take a look 10 or 15 LinkedIn pages of your target audience and check which Industry they select. Also, include other relevant industries.
· Combine Company Category with Job Seniority: Targeting by company category, it's a good option if you want to impact leading or the most innovative companies. However, it's essential to arrive at business decision-makers, so, if you combine Company Category with Job Seniority and Job Function, you will able to reach the decision-makers.
· Get leads from growth companies: With the Company growth rate option, you can impact users working in companies with a certain growth in employees' number in a comparison year. As a result, you are addressing companies with enough budget to buy your services or products.
· Demographics:
·Including Member age may exclude other members: In order to target a specific audience, sometimes companies use Member Age option to include them (for example, choosing 18 to 24 years). However, LinkedIn doesn't require this information, so it's extrapolated; for instance, it takes the graduation's year and deduces the age. In addition, you need to consider ethical limitations in terms of equal opportunities.
· Targeting by Member gender: LinkedIn doesn't require users to include their gender, so if you decide to target through this option, your size will probably be reduced. Furthermore, it is a criterion that can lead to ethical and non-discrimination issues. Here happens the same as Member age option, you have to take into account ethical limitations too.
· Education:
· Make sure you add all subsidiary Schools: Some schools have more than one page on LinkedIn, so it's important not to forget adding the primary and all the subsidiary schools in order to include all members who have studied on one of these schools .For example, if you want to include Harvard students, you need to add all Harvard schools, such as Harvard University, Harvard Business School, among others.
· Target your audience with Job Function: For those campaigns which offer a particular academic degree, target through Job Function too. For example, if you're offering a finance degree, it will be appropriate to choose Finance option in Job Function to impact users who are focused in that market.
· Exclude members who have done a degree program: Excluding those members who have done a master's degree program is good advice if your target audience is members who are looking to do a master's degree.
· Job experience:
· Add current or past Job Title: If you prefer choosing Job Titles, it is recommended to not targeting only three or four title , for example. When selecting titles, the tool will suggest other relevant you may want to add. Also, some members maybe have changed their job title but still are of interest to you, So, you can expand your target audience by targeting both current and past Job Titles in the Job Titles dropdown.
· Combine Job Function with Seniority: If you select both options, you will be able to reach decision-makers with specific expertise. Also, you need to take into account that they are not compatible with the job title.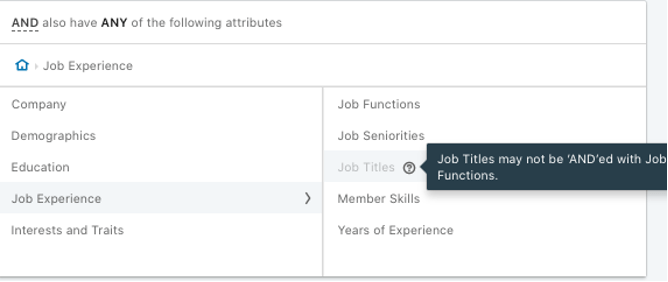 · Add more than one job function: In order to do an optimal target optimisation after launching your campaigns, it's important to choose more than one function.
· Exclude job titles if doubting in functions: If you doubt in some job functions chosen, we recommend excluding those job titles you are sure you don't want to arrive.
· Consider targeting Individual contributors: These members are buying decision-makers. If you are interested in including them in your campaign, choose Senior in Job Seniority option and combine with Years of Experience option.
· Choose Entry-level for small companies: If the target audience of your campaign is based on small companies, an optimal choice is to select the entry-level option.
· Use the best combination with Years of Experience: Depending on your target audience and campaign's goal, you can use the following combinations with Years of Experience:

– Years of Experience + Seniority: Seniority option is not the same as years of experience. A user with more than 20 years of experience can belong to an entry-level instead of senior or manager. That's why it's recommended adding seniorities from entry to partner and years of experience. As a result, you will reach experienced professionals with influence related to buying decisions.

– Years of Experience + Degrees: Some degrees are aimed at professionals with extensive experience. In this case, we recommend combining years of experience with degrees.

– Years of Experience + Functions: Function leaders.

– Years of Experience + Skills: Skilled experts.

· Members skills for the target with specific features: In case your target has particular characteristics, we recommend adding some member skills.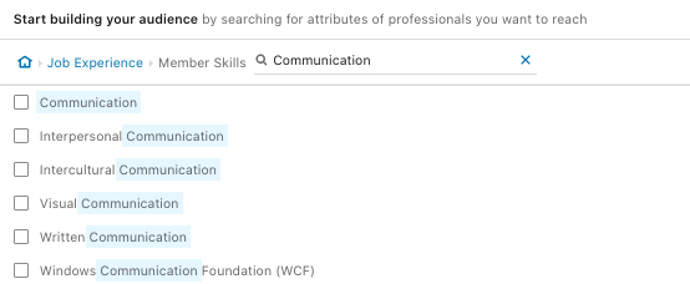 · Choose Skills option with Function or Seniority: By choosing skills with Function of Seniority will help to impact more relevant users.
· Add Skills OR Job Titles: If you prefer to target with job titles instead of functions, it's recommended choosing skills and job titles with "or" connector to have a broader audience
· Start with Job Functions instead of Job Titles: Sometimes, Job Titles can restrict your audience too much, whereas Functions are broader. So, first, we recommend selecting Functions, and when the campaign is launched, you can optimise your audience with Titles.
Interests:
· Target by Interests with Function or Seniority:
For the target audience who has specific interests, such as business technology, it is recommended to add functions or seniorities in order to reach relevant users.
· No need to add more criteria when Member traits option is used:
This option usually represents a more limited audience, so it is not necessarily more additional targeting criteria.
· Analyse top member groups:
In order to impact the more active groups, use the search function on LinkedIn to find relevant groups. Most active groups will appear at the top of the list.
Targeting tips and tricks:
· Don't use more than four audience specs:
Otherwise, there is a high risk of over-segmentation, resulting in small audiences.
· Take into account the profile language limitations:
LinkedIn doesn't yet allow multilingual campaigns. Using English as language will also take the local languages of the selected territories. On the contrary, as surprising as this might seem, if you choose the local language, it will only take the chosen language.


· Take out audience expansion:
We don't recommend choosing this option as it expands beyond the desired target, which sometimes leads to a slight loss is controlling the campaign—only suggested when the audience size is tiny.


Spend quality time in profiling and segmenting your audience.
· Save your audience as a template:
As sponsored content campaigns cannot be duplicated; we recommend saving your audiences to use them in other campaigns or save your time during your targeting process.
· Use CRM integration:
LinkedIn allows integrations with CRM platforms such as Marketo, Dynamics, Salesforce, Converter, Driftrock, Integrar, Leadsbrige, Oracle, Zapier and Hubspot. If LinkedIn doesn't support your CRM platform, you can download a list of your leads as a CSV and upload it to your CRM system. Watch out your GDPR and privacy compliance!
· Integrate a pixel:
A good practice is also to integrate with the pixel on the page to impact the website audience. This way, your ad will reach users who were previously interested in your company.
· Distinguish And & Or connectors:
LinkedIn allows choosing "And" or "Or" connectors for each criterion. An OR connector means the member-only has to meet one criterium OR the other one. The AND connector means the member has to meet ALL the selected attributes; otherwise, it will not be targeted. Consequently, through the connector ANDthe audience members are more reduced but concrete. Also, when the audience is small, we need to enlarge it with OR to functions. Be careful with using the OR function in EXCLUSIONS; it will exclude members matching one OR the other criterium. Finally, you can also use And / Or together, for example, targeting with the Job Title "Information Technology Specialist" Or skills in information technology And have 10+ years' experience.
· Check your Forecasted results:
When you start adding filters, the audience's results will appear on the right side of the screen to analyse you're doing it correctly. The dropdown under Segment breakdownshows attributes as job function, years of experience, company size, Industry and interest. These professional attributes are based on the LinkedIn members information they provide in their profiles. If your audience is too small, it will appear a notification with "Audience Too Narrow". Besides, when the campaign kicks off, you can check if you are impacting the right audience. Otherwise, filters can be modified. Finally, we recommend analysing the forecasted results in 1 dayinstead of 7 or 30 to accurately understand the results.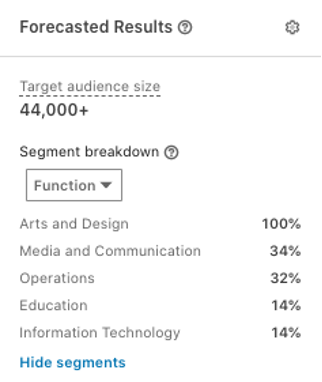 · Target at least 300 members:
Your target audience needs to include a minimum of 300 users due to GDPR. However, as we mentioned in LinkedIn's requirements point, your audience size must be between 40k and 400k members.
· Use matched audiences:
It's recommended using matched audiences with demographic data from LinkedIn, as the CPL increases by 20%. In addition, it's important to test with some audiences with a different audience for each funnel stage. When launching the campaign, check the demographics to know which audience you need to include or exclude.
· Implement ABM targeting:
In case your company's list has more than 200 companies and you cannot introduce it in Company Name option, you might need to use Matched Audiencesand upload a list (minimum 300 companies and up to 300.000 companies). When uploading your list, we recommend a list size with more than 1.000 companies.
· Consider contact targeting:
On the other hand, if you had a list of email addresses, LinkedIn allows you to upload a list or implement a data integration with your CRM (Marketo, Eloqua, among others). You can also upload a list with your current customers to exclude them from your campaigns. In this case, it's advisable to add more than 10.000 contacts.
· Integrate a pixel:
A good practice is also to integrate a pixel on your page through LinkedIn insight tag to impact the audience from your website. This way, your ad will reach users who were previously interested in your company.
· Launch retargeting campaigns:
After launching the campaign, you can use Matched Audiencesto set up a retargeting campaign. For instance, targeting those users who have clicked on the ad, but have not filled the form or with users who have visited your website. Website retargeting uses the same insight tag as LinkedIn Conversion Tracking.
· Consider Lookalike audience option:
If your audience size is less than 40.000 members, we recommend considering lookalike audience as it allows to expand by 5 or 10 times. This option includes similar members of your target audience.
· A/B testing 100% recommended:
We recommend making an A/B testing with small variationsto analyse the target audience segmentation reach optimal users. To track the performance for each audience, set up separate campaigns with different audiences.
· When doubting:
If you are not sure about your targeting, start with a broad audience between 100k – 400k members and then narrow down after seeing what performs best. In LinkedIn's demographic reporting, you can analyse who is clicking and converting on your ads by Job Title, Functions, Company Industries, etc.
· Optimise your targeting:
With demographic reporting, you can check campaign's metrics (clicks, impressions, leads, total spend, frequency, etc.) and also analyse if you're impacting the right members.
· Exclude members:
The exclusion exercise is sometimes as important as the inclusion one. Think about members that could potentially fall within your segmentation definition but are not decision-makers or decision influencers. Actively exclude the members you don't want to impact.


Let's pay attention to inclusions and exclusions. In some cases, it's better to exclude than to include attributes. For example, imagine your company wants to create a campaign in the UK. In the image we can see in the UK there is a total of 29 million members.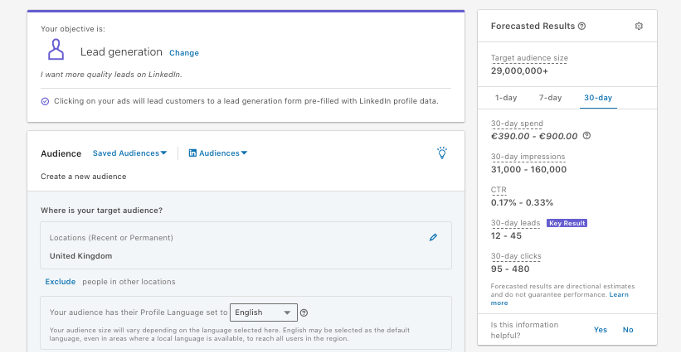 Now, let's say you are interested in impacting users who work in companies up to 5,000 workers. What you typically would do is including members who work for companies of all the sizes less than 5,000. That's 'myself only' '2-10 employees', 11-50 employees' and so on, The result is 8.6 million members.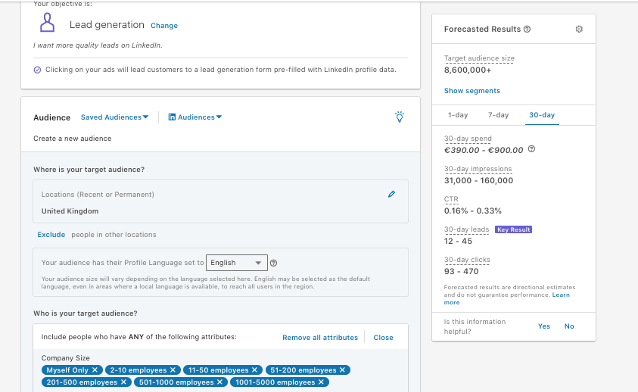 The reason for this is that LinkedIn does not map every company with company size. Therefore, if you segment through inclusion, many members will be excluded. Therefore, the best option here would be to exclude companies with more than 5,000 members, the resulting number being higher. In this case, it will be excluded '5,001-10,000 employees' and '10,001+ employees'. As shown in the image below, the exclusion way shows 25 million members.
INCLUDING members can sometime EXCLUDE too many members!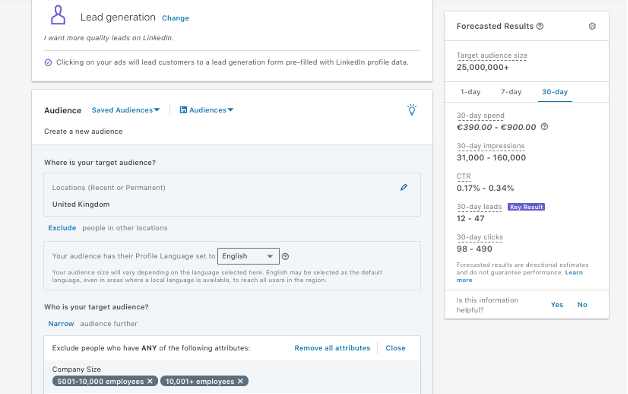 Next, you can see a summary with the above explanation.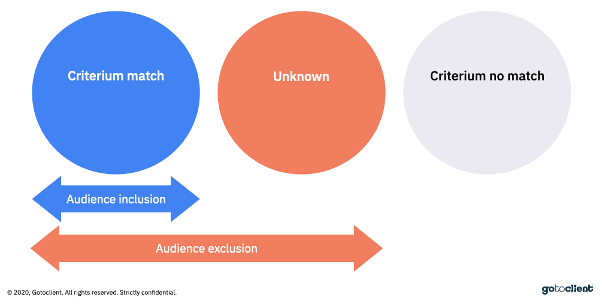 ---
4. LinkedIn Ads formats: Tips and tricks
After choosing the right goal, let's find the proper Ad format for your campaign with their corresponding tips and tricks.
Single Image Ad
Single Image Ad is a Sponsored Content Ad type known as 'native advertising '. They are called 'native ads' as they look like a native post. They're integrated on LinkedIn timeline users both for desktop and mobile devices.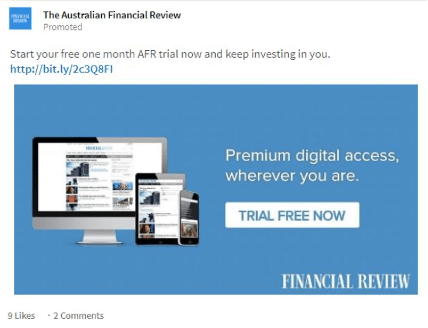 Key recommendations:
· Making your audience take action is a difficult task, so it's essential to introduce a powerful copy with questions, statistics and compelling images.
· If you pick this format for brand awareness or consideration campaigns, it is crucial to explain the reasons why your proposition can help and how you are going to solve your prospect needs.
· On the other hand, if you want to launch LinkedIn lead generation ad, it's essential to provide a strong offer to your target audience. Some examples of strong offers: free demo product, free trial, software or hardware bundles, specific purchasing model, a partner/channel program with limited inscription time or an exclusive inscription opportunity.
· LinkedIn allows to add a maximum of 600 characters, but it's recommended writing less than 150 characters for the desktop version to avoid truncations. In the mobile version, LinkedIn's system automatically cuts copies with more than two lines (approximately up to 90 characters).
· Regarding headline text, you must add copies with a maximum of 200 characters, but you should write up to 70 characters to avoid truncations.
· For the description, use approximately 100 characters to show all the text and avoid truncations, but you can add a maximum of 300 characters.
· The destination URL must contain up to 2000 characters.
· In images terms, LinkedIn's recommendations are to use a 1200 x 627 pixels image, a format generating an average of 38% more clicks.
· Finally, it must include a clear CTA (call to action)
Video Ads
Video Ad is also a Sponsored Content Ad type. There're three video formats. First of all, the short one (5-15 sec.), which is a "gif" or a "cliffhanger" and they encourage users to learn more. The second one is the medium (-30 sec.), where it can be included product summaries or interviews. Finally, the long one (+1 min), used mainly to show client case studies, appealing to emotions or giving knowledge.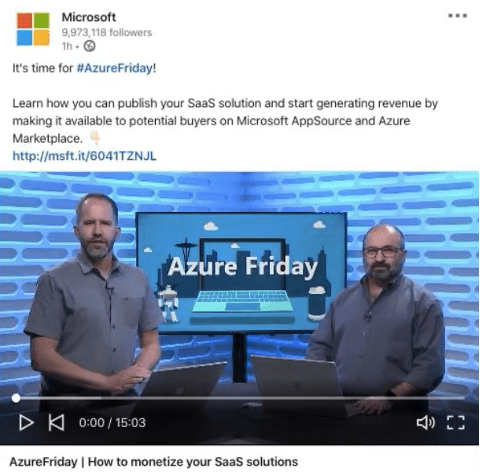 Key recommendations:
· Show your key message in the first 10 seconds.
· The message can contain a personal greeting to show closeness and give a reason why.
· Capture and keep your audience's attention through a visual story.
· Take into account that most of LinkedIn's members don't hear the audio, so add subtitles.
· The video's length is from 3 seconds to 30 minutes.
· Most successful video ads are shorter than 15 seconds long.
· File size must be between 75 KB to 200 MB and has to be uploaded in MP4 format.
· Video's headline should include up to 70 characters to avoid truncation on most devices.
Don't get blinded by the video hype.
Video works powerfully in the top and middle of the funnel stages, but not for the bottom of the funnel stage.
Carousel Ads
In June 2018, LinkedIn launched Carousel Ads which allows having sponsored content with a carousel structure. Companies can include up to a maximum of 10 customisable cards to draw the target audience's attention.
Besides, you must consider this ad type is for companies with many services to offer or aimed to complicated or very complete services.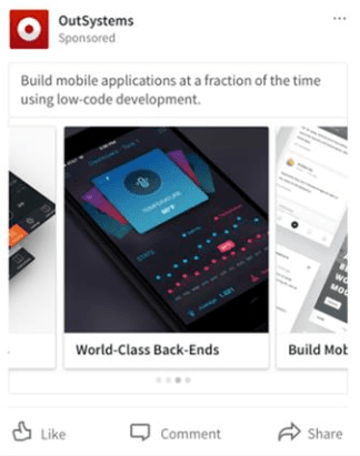 Key recommendations:
· Start with 3 or 5 cards, and depending on the results, add more cards and even change the order of the cards to find out which variations get better results.
· Tell your story, customer success stories or provide relevant information to your audience.
· Make sure your goals can be reached with Carousel Ads.
· The images measurements must be 1080 x 1080 px to avoid grey mailboxes around the images, generating a bad experience for the target audience.
Message Ads
Message Ads are one of the most customisable ones because it's sent directly to the LinkedIn mailbox, allowing you to almost entirely editing its body content. This LinkedIn ad type is the best one if you want to give to your target audience a more customised experience.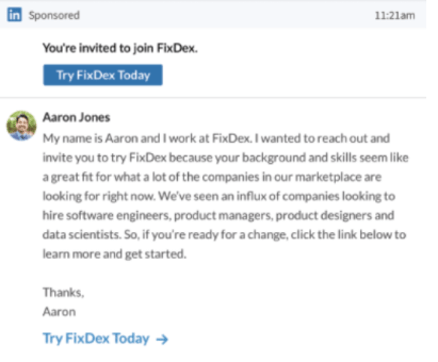 Key recommendations:

· Message ads require high audiences. The advice is at least 300k users.
· We recommended to include functions and not only titles.
· High title senders, such as CEOs, have higher open rates.
· Spend heavier at the beginning of your campaign. The LinkedIn algorithm will only be sent to each audience member every 45 days, therefore spreading your spend evenly will not make sense.
· Run on total budget mode rather than the daily mode.
· Increase amplification ads, with posts, webinars or industry trends to increase awareness and consideration while running message ads for decision.
· Depending on the campaign goals, share product demonstrations or tutorials to attract leads.
· Include a short and powerful subject line, with the following keywords: "Thank you", "Exclusive invitation", "Connect", "Job opportunities" and "Join".
· Text's body should be interactive, and if you add additional hyperlinks, the CTR can increase by up to 21%. CTA usually contains the following keywords: "Test", "Free", "Today", "Click" and "Apply".
· The message subject must be shorter than 60 characters, including spaces and punctuation.
· The message text must be shorter than 1500 characters and can also include up to 3 hyperlinks. On the linked text in the message, use up to 70 characters.
· The banner image must be 300 x 250 px.
· Use up to 20 characters for the CTAs.
Text Ads
Text ads show only on the desktop version located at the top of LinkedIn pages.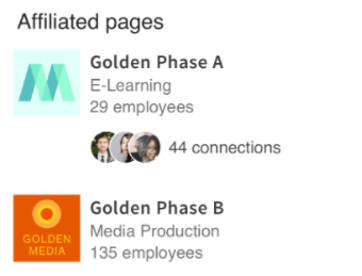 Key recommendations:

· As we mentioned before, text ads are only shown in the desktop version. So, to use solely in case you have higher traffic in the desktop version than in the mobile one.
· It's essential to establish an aggressive offer to impact the target. Also, it's advisable to turn off those ads with low performance.
· Professional images have a more significant impact when it integrates human's component.
· Ads that show a strong CTA (call-to-action), such as "Sign up now!" or "Sign up today!" usually have a better performance.
· Finally, we suggest using 2 or 3 active ads variations per campaign to analyse which strategy is more successful.
· According to LinkedIn's specifications, the ad's image must be 100 x 100 pixels.
· The maximum length of 25 characters on ad's headline, including spaces.
· Ad's description has to include up to 75.
Conversation Ads
Conversation Ad is the newest ad type, still in Beta when writing this guide. It is based on having a conversation with your target audience. To generate effectiveness, it's crucial to configure potential CTAs with different content and offers, to maintain and increase their interest.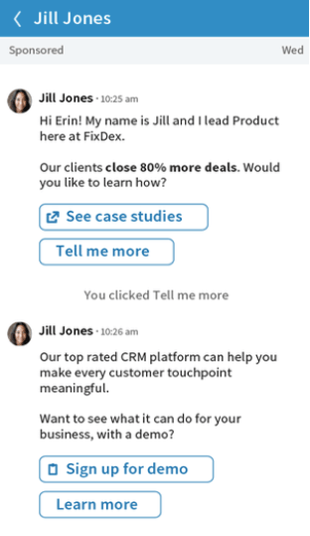 Key recommendations:

· If your team decides to launch a consideration campaign, we recommend you link blog posts, pre-recorded webinars or industry trends and analysis.
· In lead generation campaigns, you should share product demos or tutorials, customer success stores or invite prospects to attend an event.
· On ad's creation, you must introduce yourself, including your name, title and the company you represent.
· Your conversation should have 2 to 5 layers, and at least 2 CTA buttons.
· We recommend avoiding using negative CTAs such as "Not interested" or "No thanks" CTAs. Also, keep your copy short and simple with a human and authentic tone.
· Message text has to include up to 500 characters.
· Also, you can insert top 5 buttons with 25 characters on each.
Dynamic Ads
Dynamic Ads are not a self-serving advertising format. In other words, they can only be purchased offline. Should you be interested in launching one of the Dynamic Ads types, you can talk to us and, we will manage this. They require Dynamic Ads require a minimum investment of $25,000 per quarter. There are three Dynamic Ads formats:
1. Follower Ads: This format allows companies to promote and encourage members to follow their LinkedIn Page or Showcase Page.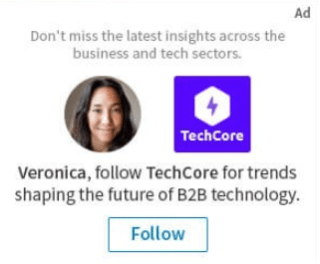 Key recommendations:
· It's mostly used for brand awareness and consideration (engagement) campaigns. LinkedIn has introduced a follow button that allows advertisers to gain new followers.
· The ad description has to fit within 70 characters.
·Up to 50 characters should be used in the ad headline.
·Company's name should fit within 25 characters, and the ad size image must be 100 x 100 pixels.
2. Spotlight Ads: Through this format, your company can showcase your products, services, events, content, and so on. People who click your ad will be redirected to your website or landing page.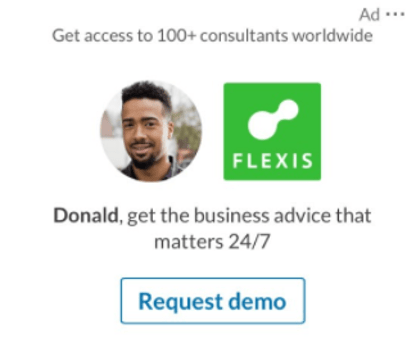 Key recommendations:
· Use this format for brand awareness, consideration (engagement) and conversion (job applicants) campaigns.
· Spotlight Ads specifications are the same as follower ads.
3. Job Ads: Finally, Job Ads allows your company to encourage relevant candidates to apply with your company. You can promote one or more job opportunities to qualified LinkedIn members based on members' skills and experience.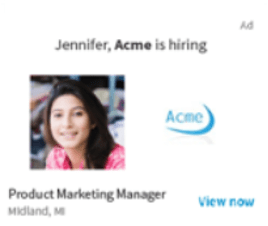 Key recommendations:
· Job Ads are only used for job applicants' campaigns.
· It's vital to write personalized and attractive copies to encourage relevant users.
· Ad description has to include up to 70 characters.
· Also, the company's name should include up to 25 characters, and the minimum ad size image must be 100 x 100 pixels.
Lead Gen Forms
Through the lead gen forms, you can capture qualified leads using pre-filled forms with data retrieved from the LinkedIn profile. They can be used only for conversion goals and Sponsored Content & Message ad formats.
Lead Gen forms perform better than a classical landing page as users don't have to redirect to another platform, and fields are mostly pre-filled. Users only optionally have to change contact addresses fields, just in case, they prefer being contacted by other ones. Consequently, through lead gen, form the process is easier and faster than using a landing page. We estimate form completion rates to be between 5% and 10%.
Lead gen forms are the centre of lead generation strategies carried with LinkedIn Ads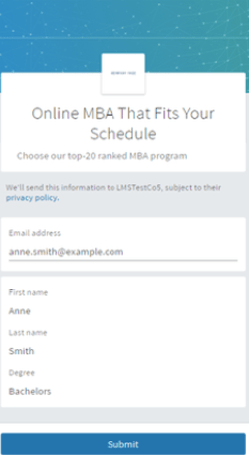 Key recommendations:
· Firstly, we propose using lead gen forms in conversion goals, due to its chosen to generate qualified leads.
· It's advisable to introduce less than 5 pre-filled fields. Users usually don't feel comfortable with more than 5 questions. So, adding 3-4 questions will increase the form completion rate.
· The easier the user experience is, the more completed forms you will get. That's why we recommend using pre-filled questions as much as possible.
· In case you need to use custom questions, use a multiple-choice as members are likely to prefer that kind of questions instead of writing.
· If you want to ask more than 5 questions or you want to include open questions, we recommend testing more than one form to see which works better.
· On the other hand, the form's messaging must be consistent and relevant for your audience. Also, make sure your copy and image match with the CTA. You can test more than one form to see which works best.
· You should check your form's copy is not truncated. To do that, use the preview tool and if it's cut, consider shortening it.
· When users click the ad and go to the form, they are in the bottom funnel stage. So, it's essential being honest with the value the user is going to get if submitting the form.
· The content form cannot be edited, and in case your team need to make any change, re-create it.
· It's recommended optimising the lead gen form creative every two months to avoid the content being outdated.
· Form's name has to include up to 256 characters.
· Offers headline cannot be blank and should include up to 60 characters.
· Finally, offers details have a 160 characters limit, but it will be cut after 70 characters.
5. Funnel template
Depending on your company's goals, you will need to focus on specific metrics.
Brand awareness and decision metrics for LinkedIn Ads campaigns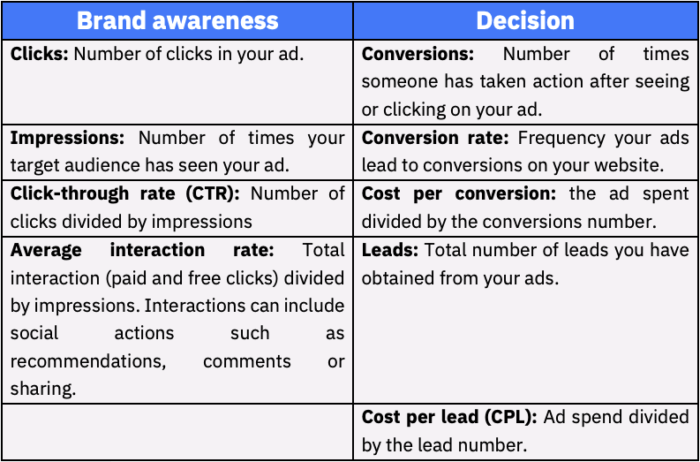 Build a realistic funnel forecast before launching the campaign and track it at least twice a week
5.1. Estimate metrics
We recommend building your funnel to analyse the sales pipeline. The following are the average LinkedIn Ads campaigns metrics:
· Sponsored Content: CTR 0.35%
· Engagement: 0.45%
· Message Ads: open rate of 30% to 50%
· CTR: 1% to 3%
· Text and Dynamic Ads: 0.03% to 0.07%
· Lead Gen Forms: lead gen form completion rate 5-10%
· Video: CTR 0.35%
· View rate (24% benchmark) completion rate (19% benchmark)
· Frequency: 1.8 by a user (max. 4 users), so it's essential to enlarge the audience.
Through a funnel template, your team will be able to know if your LinkedIn Ads campaign makes sense and also foreseeing the CPC (Cost per Click), CPL (Cost per Lead), among others. Finally, analyse those metrics to distribute the budget each week/month.
5. 2. How to calculate LinkedIn Ads costs?
Calculating LinkedIn Ads costs is a difficult task. That's why we're going to explain you through the below example how to calculate it in only four steps.
1. Size your audience:
Firstly, you need to size your audience, which it must be between 40.000 and 400.000 members.
2. The number of impressions:
Let's say you have an audience of 100.000 members. LinkedIn would not show members the same ad all the time. That's why we mentioned before that based on our experience, LinkedIn Ads frequency is 1.8. So, the number of monthly impressions will be 180.000 (100.000 x 1.8).
3. CPC:
On the right-hand side of the campaign manager, you can check the CPC costs, but they're not typically 100% realistic. So, we recommend you calculate it in the following way:
· Take the average spend and increase by a 20% (low average spend number + high average spend number) x 1.2. In the example shown below, that's 762 €.
· Then, take the average number of clicks and decrease by a 20% (low average spend number + high average spend number) x 0.8. In the example shown below, that's 142.
· Finally, divide the spend number by the click resulting number. In our example, that's 762 / 142= 5.37€.
4. Investment:
As we estimated before, you have a maximum number of 180.000 impressions by month and a forecast CPC of 5.37€. To set your investment, you need to calculate how much you can spend (Click-through-rate or CTR). The CTR depends on factors such as your offer, your ad format, ad creative and so on. In this example, if we say you have a 0.20% CTR, the maximum monthly spend capacity will be = Impressions x CTR x CPC (180.000 x 0,2 x 5.37€ = 1.933€).
Calculate your investment precisely.
Don't under or overinvest.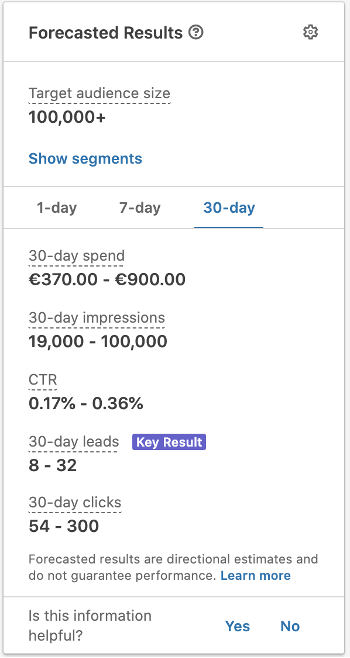 For more detailed information about how to calculate the LinkedIn Ads campaign costs and investment, please read this article.
To calculate the costs of the campaign easily and prevent sales pipeline, we offer a free funnel template.
6. Budget
LinkedIn is an expensive platform, so be aware that your campaigns will need significant investment. During the first 2-4 weeks, it is essential to invest a more considerable amount of money to carry some testing and analyse how the campaign works. We suggest investing a minimum of 50 USD per day or 3000 EUR per month for the first month. That will generate data early on, so you can evaluate the effectiveness of the ads and finetune them.
6.1. LinkedIn Ads Budget: Tips and Tricks
Finally, here are some essential budget tips to take into account:
· Mix brand awareness and conversion campaigns:
When having mixed goals, the bottom of the funnel goals will typically prevail over the top of the funnel ones. Dedicate at least 70% of the budget to lead generation and a maximum of 30% to brand awareness or consideration campaigns.
· Test your patience:
Test for a week regardless of how painful seeing your euros go is. Otherwise, you will waste your money.
· Fit your daily spend with the audience size:
Make sure you are investing the necessary budget according to the number of your audience's members. You can use this formula: for every 100k users, it is recommended investing 150€/day.
· Use automatic bid
Choose the automatic bid function in case you're not sure how much you should bid. LinkedIn uses historical campaign data and member information to automatically set your campaign's bid. Also, you need to take into account that bid changes according to the audience attributes.
· Analyse your CPL (Cost per lead):
In a lead generation campaign, after two weeks from its launch, the CPL should be decreasing. Set the automatic CPC when launching the campaign, and then change it to the manual option, a way of having control, indirectly, on the CPL.
· Optimise your budget:
In case your campaign is reaching the budget faster, increase the daily spend or low your bid to get more cost-efficiency.
· Understand what audience is impacted:
Go to your campaign manager and find the impacted audience metrics, that will show you the characteristics of the impacted members. Finetune from there!
Don't have cold feet. Cutting daily budgets in excess will make your campaign not to run correctly.
7. LinkedIn Ads: Additional key information
In this section, we will explain LinkedIn Ads best practices and then go into best practices related to copies and visuals.
· Focus on one campaign and not 2:
It's essential to be focused on one business goal and not with many. That's why we recommend launching one campaign to performant results.
· Launch 4 or 5 ads:
LinkedIn will only show the same ad to one every 48 hours. Generate 4 or 5 ads in parallel to get more frequency. In addition, it will help to conclude which kind of visual and copy get optimal results.
· Think on mobile version:
Make sure your creatives are also considered for the mobile version.
· Use webinars:
It's a good practice to build webinars to impact professional industries. As a result of COVID-19 crisis, webinars are becoming more critical than ever. LinkedIn confirms through research, 61% of B2B marketers use webinars as a marketing strategy, and it increased 120% in content aiming to drive webinars in 2020.
· Control your quality score:
Duplicating ads affects your Quality Score, which is then restored after a few hundreds of impressions.
· Exclude your leads:
When the campaign is launched, and it starts to generate leads, remember to exclude them, so you don't impact members already converted.
· Analyse your competitors:
You can look at the company's LinkedIn pages yourself. There's a tab for "advertisements" in the menu below "About". Bear in mind that many companies have several pages and maybe they have campaigns in Germany, but they don't do in other countries, such as the case of MediaMarkt Business.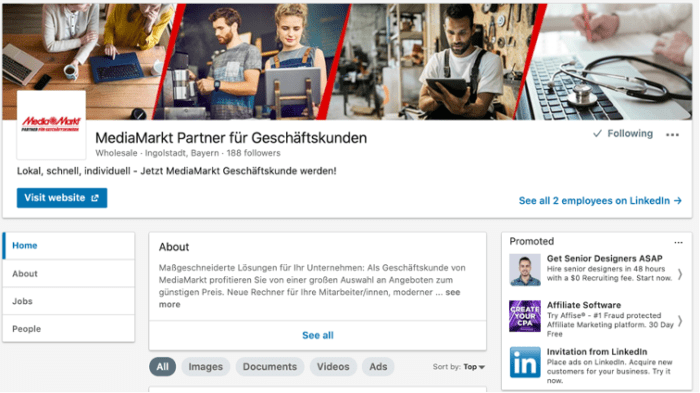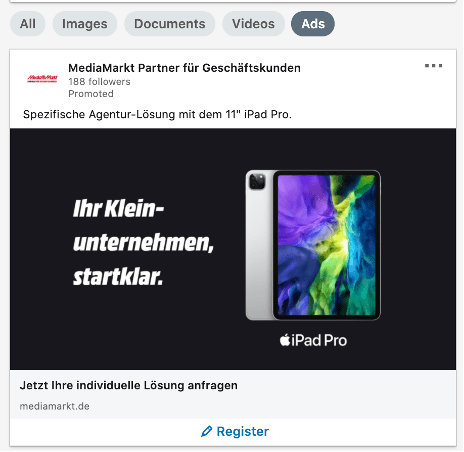 The best LinkedIn Ads types of copies
Launching a LinkedIn Ads campaign requires knowing which types of copies are the most effective and generate the best results. Write good copy combined with an eye-catching image. AB test your copyto check which copy generates better results.
See this Buzz Sumo's research, where they analyse several top B2B headlines that best work on LinkedIn. This research has been carried out through LinkedIn's average shares.
· List format
List format is the headline's type that gets the most shares. In particular, the most attractive B2B headlines on LinkedIn are:
–X ways to 270 shares
–X things you: 116 shares
–X reasons why: 93 shares
–X tips for 83 shares
–X steps to 76 shares
–X tips to 75 shares
· Future
Looking at the results, we can say professionals are attracted by content that explains possible future trends or research pieces related to facts that will happen. They need help in anticipating marketing and sales strategies in their business.
In this case, the copy that obtains the most significant attraction and interaction is The future of, with 145 shares of average.
· How to
LinkedIn users also value new knowledge. In this sense, the recommended B2B headlines to use are:
–How to get: 110 shares
–How to make: 96 shares
–How to use: 63 shares
–How to answer: 61 shares
· Rankings
Rankings are also highly exciting content for professionals. So, it's also a type of copy your team can use:
–The X Best: 81 shares
–X Most: 77 shares
–The Top X: 74 shares
· Why you should
Also, recommendations are a crucial content's type for the target audience on LinkedIn. This headline has an average of 77 shares on LinkedIn, being also an attractive copy for the LinkedIn audience.
· The power of
This type of copy, with 74 shares of average on LinkedIn, gives relevance to a specific topic to impact your target audience.
· These are the / This is the
Finally, this headline is also used to mention a list of a specific topic and has an average of 63-73 shares.
Copies tips and tricks
· Compelling first sentence:
Write a compelling first sentence to encourage the target audience to keep reading the ad.


· Questions and data-point:
Add data-point are both best practices to increase engagement and interest.


· Value:
Articulate why they should care about what you're talking about in your ad and not just emphasize what you're offering.


· Brackets:
Set expectations immediately indicating what the format of your offer is. Users will easier identify what your ad about is.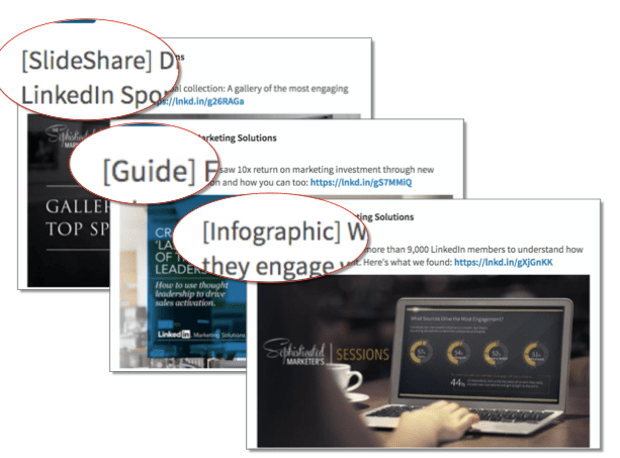 · Define the time dedication:
Tell your target audience that your content or offer is new and unique, to foster taking action. Also, users value spending a minimal amount of times take action.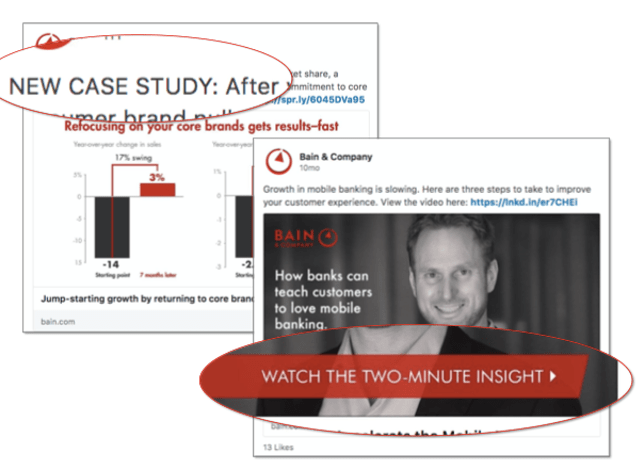 · Crop text effect in mobile:
LinkedIn crops text in the mobile version. Just look at the mobile version, so you make sure your copy is wholly shown in all cases.
· A/B testing:
We recommend making an A/B test to analyse, which copy works better and gets better results.
· Concise:
It's essential writing directly about next action (learn more and apply now), being as much as straightforward as possible (less than 150 characters).
Rewrite your copy several times / Reread it several times as an audience member /
Try several routes / Follow best practices.
The best LinkedIn Ads Images
Besides, it's also essential to carry out an outstanding visual. On your LinkedIn's campaigns, you should also create several visual variations to compare performance.
Images: Tips and tricks
Here are some tips and tricks your team must take into account.
· Consistency:
The image must be aligned with the ad's copy. When users review the latest posts on LinkedIn, they don't usually spend a lot of time reading each post's content.So, they must know what we're talking about through the visual, capturing their attention.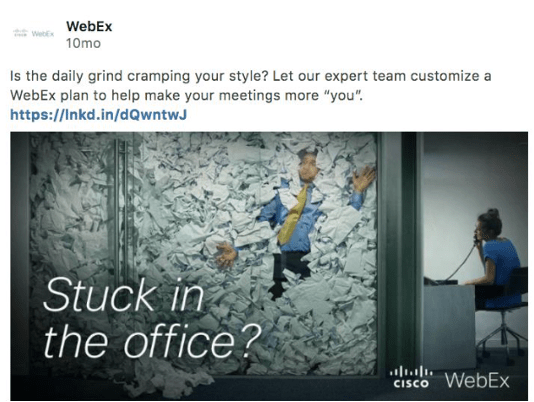 · Value:
Don't show the value after clicking on the CTA. The content's weight should show above the image. However, carefully balance as you don't want to provide too much and disincentivize action.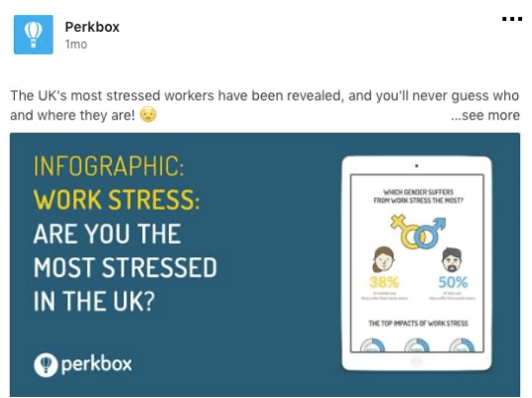 · Human images:
Showing "human" content will have more impact than other kinds of visuals.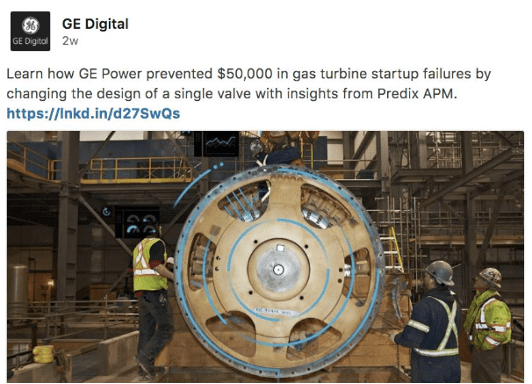 · Creatives:
Try to be creative and different from what users are used to seeing on LinkedIn's posts.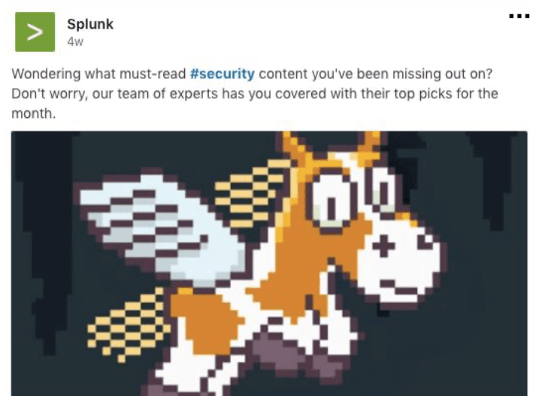 · Different approaches:
Information can always be explained in several ways. That's why we recommend looking for other methods that fit with the ad's content to impact the target audience.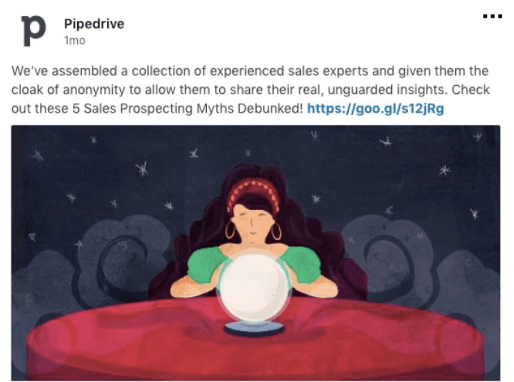 ­
· Storytelling:
Tell your story.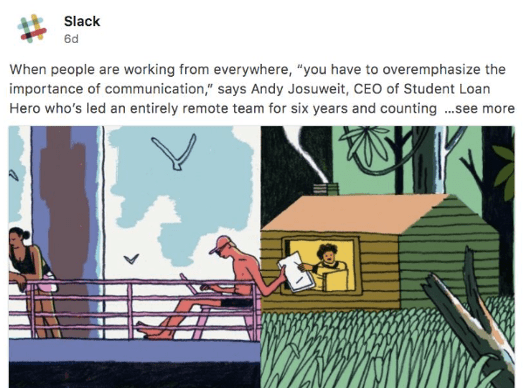 · A/B testing:
We suggest making an A/B testing to analyse which visuals works better and gets better results.
Always think about the image and text combination.
8. [Checklist] Steps to follow to launch a LinkedIn Ads campaign
As a LinkedIn agency, we wanted to provide you with our available information to help you to build an effective campaign on LinkedIn Ads. Through our experience, we can conclude that LinkedIn is the leading platform for B2B, and that's why it's essential to know how to use it optimally. So, we hope that the information was useful to rocket your sales.
As essential points, remember the five fundamental rules:
1.- Understand if it's possible to launch a campaign on LinkedIn
2.- Analyse your business goals.
3.- Choose the right format according to your company's goals.
4.- Follow the key recommendations for copies and visuals.
5.- Distribute your budget strategically and optimize your campaign according to metrics.
---
Finally, this guide concludes with a checklist to take into account all the elements to launch a campaign on LinkedIn Ads.
To conclude, it is vital to take into account all the elements to launch a campaign on LinkedIn Ads. Additionally, we have built our LinkedIn Ads setup checklist you can download here:
LinkedIn Ads setup checklist
For any questions or opportunities to carry out a campaign on LinkedIn Ads with us, we're here to help!
---