What's Performance Max? The new google tool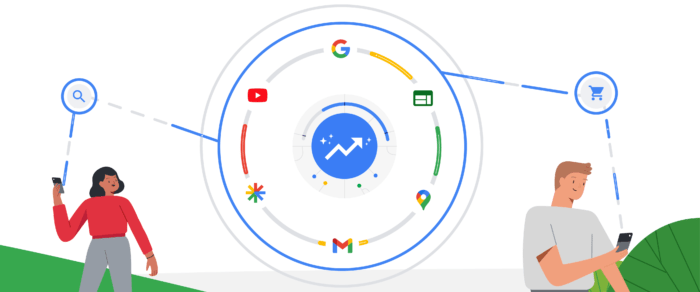 At the end of last year, Google announced some changes that would make it easier to develop a strategy to increase qualified leads. The goal: spend less time managing advertising campaigns while maintaining the same number of conversions or more. 
If you haven't caught on yet, we're talking about Google's Performance Max campaigns. In this article, we will explain these new campaigns, how we can monitor their performance and their benefits.
In essence, Performance Max campaigns are tools that help to know where consumers are on Google channels using artificial intelligence and automation. This tool enables delivery across the entire Google ad network in a single campaign through automation and machine learning, leaving ad groups aside.
What are the benefits of Google's Performance Max Ad Campaigns?
The first big difference between Performance Max and Google Ads is the following one: Performance Max shows all ads to the users most likely to convert. At the same time, Google Ads campaigns allow you to create groups of ads targeted to different audiences, but it helps you to be more creative and have a direct message for each audience.
Identifying with precision the target audience's locations has allowed Google to offer a competitive price and complements the funnel to reach a higher volume and increase sales.
On the other hand, it automates the segmentation and distribution of campaigns based on the information provided, such as the call to action, ad text, images or videos and the target audience.
What's happening in the market with Google's Performance Max Ad Campaigns?
In general, the top-performing campaigns we have tested for different industries have performed positively. An automotive service company bet on full-performance campaigns when they wanted to enter a market as competitive as Vietnam. They personalized audience segments and introduced information from previous website visitors. According to Google Ads, "This led to a 39% increase in test leads at an 83% lower cost per lead than the account average".
Best practices for Performance Max Ad Campaigns
Determining marketing objectives is essential before deciding whether Performance Max campaigns are appropriate or not.
Only let bid for Conversion or Conversion Value. If you want to use Performance Max for a mid-funnel or upper-funnel objective, you can set conversion actions at the campaign level.
One of the key parts of the setup is to provide enough assets for this creativity-hungry format. Since the campaign covers so many different types of inventory, you'll need to feed it with lots of text, image and video assets. In conclusion, Performance Max puts your business goals first and prioritizes these above signals by inputting your specific conversion goals but has very little room for customization. If you want to expand your customer reach and emphasize goal completions, you may want to consider using it through a specialist who knows your business goals.
---